Thomas Duffy's parents 'want answers' after son's death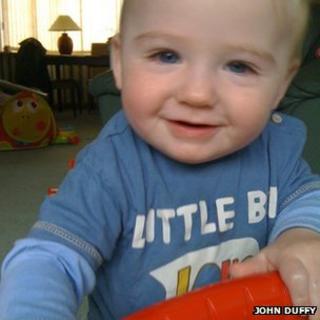 The parents of a baby boy who died in hospital have said they "want answers" from a fresh inquest into the death of their 14-month-old son.
Thomas Duffy died at the Alexandra Hospital in Redditch in March 2011.
Parents John and Joanne Duffy took their case to the High Court after the original inquest verdict found Thomas died of natural causes.
The judge said the first inquest should have heard from more than two witnesses.
Mr Justice Kenneth Parker ordered a second inquest to happen "as expeditiously as possible". A date for this is yet to be set.
Mr Duffy said the couple, of Solihull, want a "full understanding" of what happened the day Thomas died after an alleged refusal by a senior physician to see him as his condition worsened.
He had a history of recurrent chest infections, and his condition had deteriorated when he was taken into hospital on 19 March 2011.
Unsuccessful attempts were made to treat and resuscitate him and he was pronounced dead later that morning.
'Worst thing possible'
Mr Duffy said: "We couldn't understand what had happened, we thought Thomas had come out of the worst of it.
"He had been moved to the recovery room so, supposedly, he was recovering.
"The worst thing you can possibly imagine is for someone to tell you your son's passed away."
He said on the day the inquest was opened in June last year there were more than 20 witnesses due to appear but only two people gave evidence.
The judge ruled the coroner had wrongly refused the Duffy family's request for further evidence to be obtained from an expert with current experience in the intensive care of children.
A statement from the Worcestershire Acute Hospital Trust, which runs the Alexandra Hospital, said: "The trust accepts the latest ruling against the deputy coroner from the original inquest and will co-operate fully over the second inquest, ensuring the process can be as swift as possible for the family at this difficult time."