Knife death families suffer PTSD, hair loss and flashbacks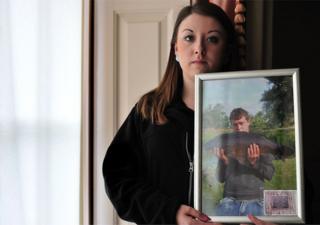 National crime figures have shown that murders involving a knife have dropped 9% in the past year, from 207 in 2011-12 to 189 in 2012-13. The figures provide a dispassionate, statistical snapshot of these crimes, but do not yield the experiences of those left behind - the families. Here are some of their stories.
The narrative of fatal knife crime is usually a simple one.
A person is killed, the grieving family releases a tribute, the case goes to court and the person responsible is imprisoned.
The police will then release a statement on behalf of the family in which the detectives are thanked for their help in securing justice.
Some people might even use the word "closure".
And that, appeals not withstanding, is that.
Only it never is like that.
The real impact of violent deaths on surviving families is rarely told. It does not fit the prescribed narrative with its neat beginnings, middles and endings.
Mood swings, addiction, the loss of toenails and hair, suicide attempts, marital collapse, alienation from friends and difficulties with eating - the physical and social effects of bereavement are less reported.
The after-effects of knife crime on the bereaved can resemble the post-traumatic stress disorder (PTSD) experienced by post-combat soldiers, psychologists say.
This is something Ann Oakes-Odger knows all too well.
Her son Westley Odger, 27, was stabbed in the neck outside a cash machine in Colchester in 2005. He died of his injuries.
The "reason" for the attack was that he told someone not to jump the queue.
Ms Oakes-Odger, who lives in Essex and was awarded an MBE for knife crime prevention in 2011, believes the psychological and physical impact of murder on surviving family members is poorly understood.
"You feel as though you are losing your mind," she says. "When a child is murdered, it is out of the normal course of events.
"The shock element creates a lot of physical and mental issues for every member of the family.
"One of the things which happened to me was my hair fell out in bunches and my toenails fell off. I thought that was peculiar to me, but I found out it wasn't."
The loss of her hair and nails was, she says, a symptom of the stress of living in a sustained "flight or fight" state. She also suffered colour blindness.
"During the early years I was not seeing things in colour. I could only see in black and white and various shades of grey.
"There isn't a 'closure' with homicide."
The criminal justice system itself hinders rather than helps, according to Ms Oakes-Odger. For months or years after a murder, the loved one is more "evidence" than person, and can be subjected to multiple post mortem examinations.
And at the centre of proceedings sits not the victim, or their family, but the accused.
Grieving while the wheels of justice roll, she says, is nigh on impossible. And by the time they do stop, the psychological damage is already done.
The Ministry of Justice says it understands the "immeasurable suffering" experienced by victims' families and that it is committed to making sure more support than "ever before" is available to them.
This includes the national Homicide Service, which offers such families a Victim Support caseworker and access to specialist counselling.
The department is also "revamping" the Victim's Code which it says will make "major improvements for victims" and give them a clearer guide about their entitlements and sources of help.
These are the type of measures Tanya (pictured above), who asked for her surname to be withheld, says she desperately needed.
Her husband Gary, 59, was murdered by their son Ed who, after killing his father upstairs with a hammer and a knife, came downstairs and tried to kill her.
She heard two "thuds" upstairs and believes had she not turned around to see her son before he attacked she too would have died.
The killing happened a week before Christmas in 2007. The family had enjoyed a normal day and Ed had been upstairs in his room. He asked Gary to come up and help him fix his stereo.
It was then that he killed him.
Her son, who was 15 at the time, is serving 18 years for murder and attempted murder. He had denied the charges, claiming his state of mind was altered by the anti-depressant fluoxetine.
"I lost everything that day," she says.
Like Ms Oakes-Odger, Tanya's toenails fell out. Even now, six years on, she still loses her nails when she is under stress.
After her husband's murder, the former nursery worker could not bring herself to use knives - even cutlery knives - or face opening her post.
Looking back, Tanya says there is precious little support offered to the families of people violently killed. The attention and support, she says, goes to the perpetrators.
The victims' families, Tanya says, are - with the exception of police family liaison officers - left to find their own way through the emotional and practical debris of a disaster.
"There was nothing," she says. "And it takes so much for you to ask for help. And you just don't have the words. It would be much better if support was offered to you, even if you didn't take it there and then, but could take it along the way.
"My two other children (who were in their late teens when their father was murdered by their brother) had no support."
Also difficult has been the expectations wider society places on the families.
"It has been five years but I still have days when it is hard - anniversaries. Some people are really good and know when you're not in the right place. Others say 'you're OK' and they expect you to be OK and so for those people, you are.
"I still have times when I have to put the knives away and when people are doing DIY with hammers... but it is part of everyday life, and you have to get used to it."
For some, deaths can trigger a personal redefinition. A shy person learns to speak out, for example.
Take Holly Watson. Now aged 20, she met her half-brother Lewis when she was 14.
Just two years after they met, Lewis was dead. The 23-year-old was stabbed three times in Sudbury, Suffolk.
The only photograph she has of Lewis, who was a keen angler, is of him holding a fish. She never got to say goodbye as he was dead before she got to hospital.
"That was hard," she says. "I had never seen a dead body before. And when the first body you see is your big brother, well that's hard to deal with.
"I became a bit of a recluse. At the beginning I hated the world and everybody in it.
"It was almost like a hysteria, with Lewis dying, the funeral and the waiting, like limbo land, and then the court case and then everybody said it would get easier with the closure, but it doesn't."
Immediately after her brother's death, she was unable to pick up a cutlery knife.
"To begin with knives made me feel sick, I couldn't use them. We felt we could not hold something that had killed Lewis."
Then there was the impact on her ambitions. Holly had always wanted to be a lawyer. But as she started to explore the law, she found many of the scenarios put to students in law exams involved knife crimes.
Her ambitions for the law were put on hold.
Next year she will turn 21. It is not an anniversary she is looking forward to. Her brother, she says, should be there for it. And should she ever marry, then Lewis should have been there for that too. But he won't be.
"I dread the day when I have children and I have to tell them that their uncle isn't here," she says.
"The biggest thing in getting over something like this is in accepting that the world is not always what you want it to be."
Holly says she used to be shy. She is now an anti-knife violence campaigner.
So too is Caroline Shearer.
Her 17-year-old son Jay Whiston was fatally stabbed in the heart outside a house party in Essex last September.
Exactly what happened remains unclear and is currently subject to court proceedings.
Ms Shearer describes the days since her son's death as a "living torture" peppered only by the briefest of moments each morning, in the gap between sleep and consciousness, when the anguish of loss is kept at bay.
She would love to have all of the happy memories she shared with Jay at the forefront of her mind.
Instead, the recurring image which haunts her is of her boy on the cusp of adulthood lying dead on a mortuary slab.
"I was a mother of two children then, within three hours, I was a mother of one," she says.
"He was a normal, everyday, loving, caring boy. I always say he had such a huge heart, they couldn't have missed."
The grief she describes is like a sledgehammer. There are gaps in the day when she might, for example, notice the weather, or have a conversation. And then the grief hits her, again and again.
It is with her throughout the day - as she washes clothes, cooks meals or sees a car of the same colour as Jay's - and last thing at night as she falls asleep.
And she too had difficulties with eating.
She tells how shortly after Jay's death she struggled to use kitchen knives or cutlery - because of their association with the implement used to kill her son.
None of the symptoms reported by the families surprise clinical psychologist Don Macleod.
Mr Macleod has worked with families across the north west of England who have suffered tragedy. Some suffer PTSD symptoms more often associated with combat veterans.
But for the families, he says, the expert knowledge needed to help them is often not there.
"I would be almost certain that your average GP would not actually tag what's going on with someone having that kind of reaction," says Mr Macleod.
"The GP might know there had been a murder in the family, but they might not have the time or indeed the skills and knowledge to be able to pinpoint that [PTSD] is what the issue is."
Part of the issue is that the initial responses to grief - anger, anxiety, flashbacks and depression - are, although extremely unpleasant for the people suffering them, "completely normal" given the circumstances.
They become an issue, he said, when they "become protracted" - such as with PTSD.
Can these families ever recover?
Ms Oakes-Odger thinks they can, but it is a slow, painful process which results not in a return to how things used to be but in acceptance of the way they are now.
"It is about finding a new 'normal'," she says, "a normal in which you can lead a purposeful life, one you can go forward with."