Liza Brady 'devastated' after police drop baby death probe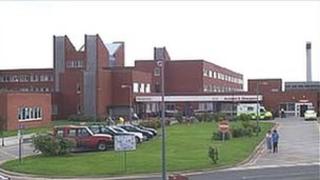 A mother whose stillborn son's death prompted a police inquiry said she is devastated the case has been dropped.
Liza Brady's son Alex was stillborn at Furness General Hospital and in 2008, an inquest found failings in his care by maternity unit staff.
Cumbria Police started probing a number of baby deaths at the hospital in recent years.
But, it has now said it was only focussing on the death of one baby, Joshua Titcombe in 2008.
Ms Brady said she was devastated and claims the case was dropped because of legal technicalities.
Lung infection
She said: "The police were looking into Alex's death and there were a number of issues, but in reality he was classed as stillborn with no human rights.
"The law is the law and you can't get round it, serious issues were allowed to happen and it resulted in a death, yet he did not exist, because he died in the womb.
"He didn't have any rights - this is wrong."
Alex was stillborn with his umbilical cord around his neck and the inquest found midwives did not involve doctors early enough during Ms Brady's labour.
Two months after Alex's death Joshua died after being born at the same hospital, when midwives failed to spot he had a serious lung infection.
In September 2009, police launched an investigation into baby deaths at the hospital, after it received a number of complaints.
An inquest ruled nine-day-old Joshua died as a result of natural causes, but staff missed opportunities to save him.
Last Friday, police said "other complaints would not proceed to a criminal prosecution".
But it did confirm it was looking at whether anyone at the hospital should be charged with perverting the course of justice over Joshua's death.
University Hospitals of Morecambe Bay Foundation Trust has previously admitted Joshua and his family had been "let down" but has not commented on the police investigation.
The hospital is also carrying out its own investigation into maternity unit deaths and Ms Brady of Walney Island, said she was "looking forward" to the results.
"We want everything out in the open and no stone left unturned - we want lessons to be learned - this can't happen again," she added.