Norfolk's first IVF clinic opens in Wymondham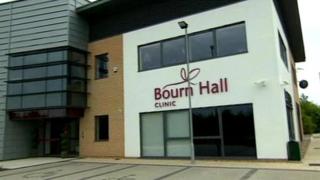 Couples from Norfolk in need of IVF can now receive treatment in the county at its first fertility clinic.
The Wymondham unit will treat NHS patients aged between 23 and 40 and private patients with GP referrals.
It is a branch of Bourn Hall, the world's first IVF clinic, which is based near Cambridge.
The centre has invested £2.5m in the clinic and will employ 25 staff. Until now patients had to travel out of the county for treatment.
Regional clinic manager Fran Rose-Smith said: "It's an enormous benefit to couples because sometimes the appointments are short, but they have to do an hour and a half's journey for just for a 15 minute appointment.
"[The new clinic] has everything that you want to have a full IVF service."
About 60% of Bourn Hall's patients are funded by the NHS, including Jen and Jamie Field.
They travelled from Norwich to Bourn Hall's Cambridgeshire clinic for three cycles of treatment, the last of which produced their one-year-old son Thomas.
Mr Field said: "One of the big stresses we had was the travelling, going from here to Cambridge, so if there's a clinic just down the road for the families in Norfolk, that's a fantastic thing."
Bourn Hall was founded in 1980 by the IVF pioneers Patrick Steptoe and Robert Edwards, and has another branch in Colchester.