Ashley Centre scraps live penguins show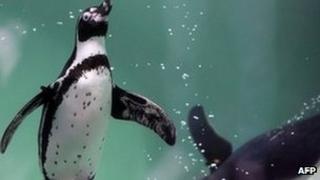 Plans to include live penguins at a themed fun day at a Surrey shopping centre have been scrapped after a campaign by an animal welfare charity.
The Ashley Centre in Epsom had planned to have the live birds on site as part of a penguin-themed event on 29 June.
But it said it had decided against having live animals at the centre in response to customer feedback.
The Born Free Foundation said the use of wild animals in this way should be a thing of the past.
The event was to have featured live captive-bred Humboldt penguins supplied by Oxfordshire company Amazing Animals, which works in the film and entertainment industries.
'Living toys'
It said the penguins were used to regular human contact and were not affected by flash photography or busy crowds.
Security would be maintained at all times and members of the public would be prevented from touching them.
But Born Free, based in Horsham, West Sussex, said the penguins would be subjected to the stress of transportation and being surrounded by large numbers of people in an unfamiliar and unnatural environment.
"We believe that such events send a totally inappropriate message to the public that penguins are little more than 'living toys'," it said.
"We are delighted that the Ashley Centre has made the right decision."
The shopping centre said on its website that all its other penguin-related activities and events on 29 June would be unaffected.