AstraZeneca announces new Cambridge Biomedical Campus HQ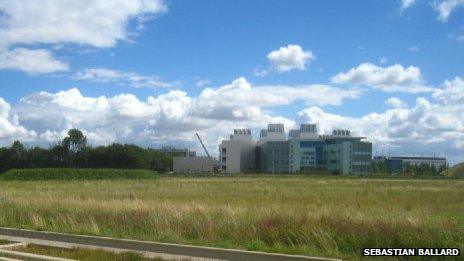 Pharmaceutical giant AstraZeneca has announced it is setting up its new global headquarters at the Cambridge Biomedical Campus.
The £330m research and development (R&D) site is expected to employ about 2,000 people and open by 2016.
The company will cease R&D at Alderley Park in Cheshire and close its London HQ. The majority of posts will move to Cambridge, but 700 jobs are being axed.
The new site will become AstraZeneca's largest centre for cancer research.
It will also focus on cardiovascular, metabolic, respiratory, inflammation and autoimmune disease research.
A spokesman said the move could boost the chances of Britain discovering the next generation of medicines.
AstraZeneca announced plans for a new R&D site in Cambridge in March, but did not confirm the exact location.
It already has a biologics research base south east of the city, MedImmune, which employs about 500 staff at Granta Park.
Those posts will move to the new 11-acre (4.5 hectares) Biomedical Campus site, near Addenbrooke's Hospital to the south of Cambridge.
AstraZeneca chief executive Pascal Soriot said: "Moving to the Cambridge Biomedical Campus means our people will be able to rub shoulders with some of the world's best scientists and clinicians carrying out some of the world's leading research."
When the move was first announced, unions said moving the jobs to Cambridge would be a massive blow to north-west England.
Unite national officer Linda McCulloch said the decision to relocate over 1,000 jobs to Cambridge would "create a skills crisis for the [north-west] economy".
However, David Willetts, minister for universities and science, described the investment in the new site as "excellent news for the UK life sciences industry".
"It strengthens our global competitiveness and supports our aim of making the UK the best place in the world for the discovery and commercialisation of medical innovations," he said.
AstraZeneca currently employs about 6,700 people in the UK and is the second largest drugs company in the UK after GlaxoSmithKline.
Related Internet Links
The BBC is not responsible for the content of external sites.