Culture minister: No threat to northern science museums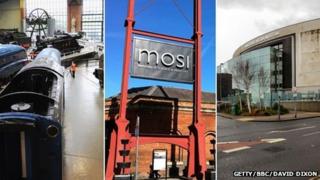 Museums in three northern cities which faced uncertain futures are "safe" from closure, the culture minister has said.
The Science Museum Group (SMG) had said it might close one of its museums in Manchester, York and Bradford due to budget cuts.
Culture Minister Ed Vaizey said there was "no question" of them closing.
The National Railway Museum in York, the National Media Museum in Bradford and Manchester's Museum of Science and Industry had all been under threat.
The SMG, which also runs the Science Museum in London, said it had received "overwhelming support" and would "continue to do all we can to ensure that the museums remain open."
It said until confirmation of the funding package was received, it could not be certain "about the level of structural deficit we face and which options will have to be considered."
Mr Vaizey said: "They [the SMG] asserted if there was a certain level of cuts they would have to look at closing one.
"They are not going to receive that level of cuts so there is no reason why any of these museums should close.
"Let's not beat about the bush - they won't close."
Warnings 'heeded'
Last week it was reported the Department for Culture, Media and Sport (DCMS) and the Treasury had agreed the department's spending would be cut by 8% for 2015-16.
Arts and museums, it was reported, would share less of the burden with a 5% reduction.
The Labour MP for York Central, Hugh Bayley, said: "All the campaigning and all the warnings sent to the government that it would be an act of cultural vandalism if one of these museums were to close appears to have been heeded."
Manchester Withington Lib Dem MP, John Leech, said: "I do think there was a bit of bluster from the Science Museum Group to try and ensure they didn't get the sort of budget reduction that could have been potentially on the table.
"I am not sure how serious the science group ever were about closing the museum, or whether it was all about making sure they got a decent budget settlement - or possibly dipping their toe in the water about trying to charge for entry."