Stuart Hall 'got off lightly' with sex attacks sentence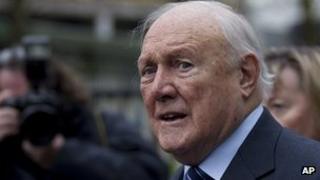 BBC broadcaster Stuart Hall "got off very lightly" with a 15 month jail sentence for sexually abusing girls, a victim support charity has said.
The National Association for People Abused in Childhood (Napac) said the tariff showed his crimes were not taken "seriously enough".
The 83-year-old admitted 14 offences against girls aged nine to 17 between 1967 and 1985.
The Attorney General's Office said it had had requests to review the tariff.
A spokesman said the department had a 28 day window to decide whether to refer the case to the Court of Appeal.
He said the attorney general would study the judge's sentencing remarks and take representations from the Crown Prosecution Service before making a decision.
Napac chief executive Peter Saunders said he had "lost count of how many people have said to me in the last 24 hours 'what a lenient sentence'".
"If more people understood the consequences for the victims and the life-long misery that many of them suffer as a result of these crimes, I think most would agree that Stuart Hall has got off very lightly," he said.
"We need to look at sentencing [as] the judge could have given a stiffer sentence. What this is saying is that the judiciary in this case have not taken the crime seriously enough.
"It has to be zero tolerance and the right punishment for the crime."
'Total disregard'
Passing sentence on Monday, Judge Anthony Russell QC said for most of Hall's offences the maximum sentence at the time they were committed was two years, but the remainder carried a potential term of five years.
He added: "The maximum sentence for this type of offence has been significantly increased, since these offences were committed, to 10 years."
Guidelines published by the Sentencing Council state a number of factors, such as the seriousness of the offence, the harm caused to victims and the risk of reoffending, must be taken into account when a tariff is set.
A spokesman for the Judiciary of England and Wales declined to comment on the sentence.
The National Society for the Prevention of Cruelty to Children (NSPCC) chief executive Peter Wanless said the sentence was "not a great day for justice".
"Hall will be free within months but the trauma he caused his victims will stay with them a lot longer - possibly for the rest of their lives," he said.
"He has shown total disregard for their feelings, even arrogantly branding them liars.
"Whilst it's commendable that this case was pursued even after such a long passage of time the end result is not a great day for justice or for the victims."
Hall was initially arrested in December and made a statement labelling the claims "pernicious, callous, cruel and above all spurious".
He has been a familiar face and voice in British broadcasting for half a century, and was appointed OBE in the 2012 New Year Honours.