Protest 'tea party' held at Balcombe borehole site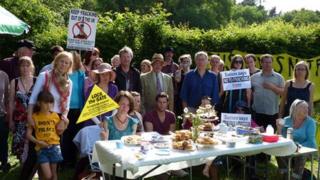 Campaigners have held a "British tea party" outside a site in West Sussex where energy company Cuadrilla wants to test drill for oil and gas.
The protest at the Lower Stumble site followed the setting up of a drilling rig to bore for water samples, which residents said took them by surprise.
The Environment Agency said it was considering an application from Cuadrilla for a waste water permit.
Cuadrilla said it had held a public meeting which 400 residents attended.
Water quality tests
The company is drilling a 3,000ft (914m) vertical well and a 2,500ft (762m) horizontal bore to the south of Balcombe, near Haywards Heath.
The tests will see if oil or gas is there and can be extracted but the campaigners, backed by Friends of the Earth, fear fracking may take place at the site in future.
Fracking involves pumping a mixture of water and chemicals into shale rock at high pressure to extract gas and oil.
Cuadrilla director Leon Jennings said drilling and testing of the water quality would take place during the summer.
"Thoughout that stage we will be updating the community on progress and keeping the parish council etc fully informed of our operations," he said.
"We are happy with the level of communication but we will see what we can do to improve on that."
Radioactive
The Environment Agency (EA) said Cuadrilla had applied for a permit to manage waste from the exploratory borehole to test for oil reserves.
A public consultation is being carried out until 16 July.
The EA said the company also intended to apply for a permit to manage waste water which may contain naturally-occurring radioactive substances.
"The company is not proposing to carry out any hydraulic fracturing (fracking) as part of this activity," it said.
Friends of the Earth said residents would have further opportunities to raise concerns about Cuadrilla's plans for Balcombe during the permit consultations.
"Despite the threat it poses to local communities, our environment and the climate, the risk of fracking still hangs over local people across the UK," said spokesman Tony Bosworth.
"Shale gas and oil will do little to tackle soaring fuel bills."