Horden shootings: Relative urges gun law changes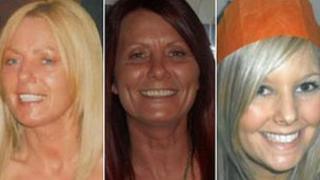 A relative of three victims of a County Durham shooting rampage has met Policing Minister Damian Green to press for tougher gun laws.
Bobby Turnbull lost his mother Alison, sister Tanya and aunt Susan McGoldrick, when Michael Atherton killed them in Horden, before shooting himself.
Atherton legally owned shotguns and firearms despite a history of violence.
The 24-year-old's meeting followed a critical review of how Durham Police handled gun licence applications.
Atherton, 42, carried out the killings on New Year's Day last year, sparking an Independent Police Complaints Commission (IPCC) investigation into firearms licensing issues at Durham Police.
'Stop the heartache'
This concluded the force missed opportunities to assess Atherton's suitability to remain in possession of his weapons despite his known history of domestic violence.
Mr Turnbull said the 45-minute meeting, in which he urged higher charges for gun licences and a ban on ownership for those with a history of alcohol abuse or violence, went well.
He said: "I'm not running this campaign for praise for myself. I'm doing it, hopefully, to stop the heartache I've been through happening to another family.
"When you get someone like Damian Green agreeing with you it does make you feel like you're doing something special."
Earlier this month, the IPCC made a number of recommendations to the Home Office, the Association of Chief Police Officers and the College of Policing.
These include a call for the Home Office to revise the current legislation and guidance to allow for a single uniform test for the assessment of suitability to possess both firearms and shotguns.
It also wants reviews to be carried out during the term of the licence, and a call for clear guidance and tighter restrictions in connection with applications where domestic violence is a factor.
The Home Office said it welcomed Mr Turnbull's contribution.