Trapped Chessington girl vows: 'Never again'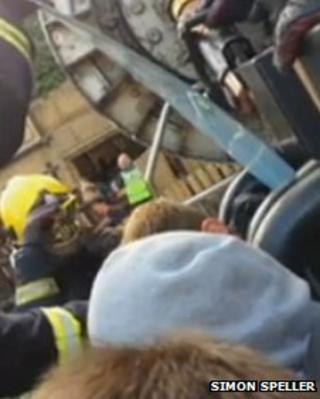 A birthday celebration trip came to a shuddering halt in the skies above a theme park - leaving a group of girls trapped on a ride for several hours.
Now 13-year-old Mairead Cashin, one of the party group at Chessington World of Adventures in Surrey, is vowing never to go on Rameses Revenge again.
She was among 39 thrill-seekers left stranded on the ride on Sunday evening.
The teenager said another rider suffered a serious asthma attack in the three hours it took to be freed.
Speaking of the moment she realised something had gone wrong, Mairead said: "We thought it [the delay] was part of the ride and we would suddenly just go again but it wasn't and after about a minute we were like, 'something's up'.
"The staff were trying to make announcements through a speaker so it was really muffled and we couldn't hear it so we had no idea what was going on.
"There was one guy who had quite a big asthma attack, but actually people handled it really well.
"We were quite high up but we weren't upside down or tilted or anything - it was lucky."
'Discomfort and distress'
Mairead's mother Catherine Cashin said it was 90 minutes before London Fire Brigade arrived at the site.
"I was getting concerned by then," said Ms Cashin, who was not on the trip.
"I knew the girls were keeping each other company and they were chatting to each other but they could see other people in discomfort and some were in distress."
Louisa Speller was on the ride with her husband.
She said: "We were up there for an hour. They started passing up water,
"My husband asked if they'd called the fire brigade, but they said: 'We've got the engineers on site and we don't need to call anyone', so he called the fire brigade."
London Fire Brigade said it was called at 17:20 BST, with all 39 people rescued from the ride by just after 19:30 BST.
Firefighters cut the riders from their restraints, before walking them down the ride from a height of about 20ft (6m) and helping them down a ladder to ground level.
No injuries were reported but some passengers were uncomfortable and distressed.
Chessington said the automatic fail-safe system brought the ride to a controlled stop.
The theme park said staff were on site immediately to "implement the well-rehearsed protocols" when Rameses Revenge stopped at 16:06 BST.
A spokesperson: "Initial attempts to bring the ride down were not successful and the fire brigade was called to assist and arrived on the park within seven minutes.
"The park team was in contact with the guests on the ride throughout the delay and all the guests involved and their families were looked after by the park team after the evacuation.
"The ride will remain closed while investigations take place into the cause of the stoppage and any required remedial work is completed."