Durham officers given 'unobtrusive' body cameras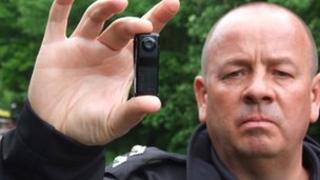 Police officers across County Durham are to be given body cameras to help record evidence.
The "unobtrusive" devices, about the size of a thumb, will be used to record interactions with victims and witnesses, and the footage can be used in the event of a prosecution.
The force said they were cheaper and more effective than head-mounted ones.
Following a successful pilot in the Bishop Auckland area, the cameras are being issued to all frontline officers.
Insp Simon Orton, who led the pilot project, said: "As it fits neatly on to an officer's lapel or body armour, it's not obtrusive or cumbersome and will provide actual footage which would be difficult for a suspect to dispute.
"The expectation is that this will become a standard piece of kit for officers."