Horden shootings: IPCC calls for national gun licensing change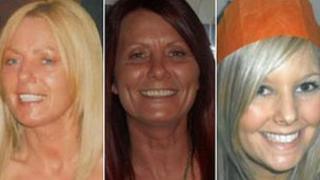 The police watchdog has called for the same rules to be applied when licensing shotguns and firearms, following the shooting of three women.
The IPCC outlined a number of national recommendations in its report into the shooting at a house in County Durham.
Michael Atherton legally owned both shotguns and firearms despite a history of domestic violence.
The 44-year-old shot himself following the shootings in Horden on New Year's Day last year.
Susan McGoldrick, who was Mr Atherton's partner, died along with her sister Alison Turnbull and Ms Turnbull's daughter Tanya.
Their deaths sparked an IPCC investigation into firearms licensing issues at Durham Constabulary.
This concluded the force missed opportunities to assess Atherton's suitability to remain in possession of his weapons.
'Tighter restrictions'
The IPCC has now made a number of recommendations to the Home Office, the Association of Chief Police Officers and the College of Policing.
These include a call for the Home Office to revise the current legislation and guidance to allow for a single uniform test for the assessment of suitability and fitness to possess both firearms and shotguns.
It also wants reviews to be carried out during the term of the licence, and a call for clear guidance and tighter restrictions in connection with applications where domestic violence is a factor.
IPCC commissioner Nicholas Long said: "We have already made a series of recommendations to Durham Constabulary, but based on the issues which arose we felt it imperative that national recommendations were also proposed.
"We consider these will go some way to assist the review of firearms licensing currently under way by the Home Office."