Co-op cherry toy safety fear recall: Just 554 returned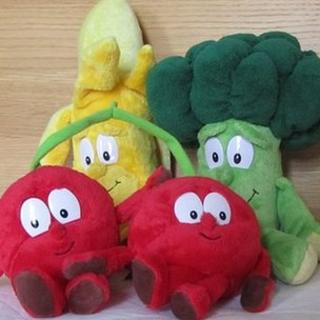 Fewer than 600 cuddly toys have been returned following a recall notice when a girl was almost asphyxiated.
Emma Charles, four, of Colchester, "turned blue" when the cherry toy wrapped around her neck last month.
The East of England Co-op said it had received 554 of the 17,000 it sold and would continue to raise awareness with posters and via social networks.
Emma's mother, Joanne Goldsmith, said she was upset that she had since seen the toy for sale on eBay.
The pairs of cherries, part of a "Goodness Gang" range of eight soft toy fruits and vegetables, are connected by a fabric "stalk".
Ms Goldsmith said her daughter had turned a "blue-purple colour" after the stalk wrapped around her neck three times.
"She was a few seconds from something really bad happening," she added.
"She was very, very distressed. She was trying to cry and trying to pull herself free.
"I undid them and she gasped for air."
She said was worried about the toy appearing on eBay and had contacted individual sellers and the auction site - the company said it was in the process of removing all listings.
Ms Goldsmith said: "It's frustrating and it upsets me that they could be bought by someone in another part of the country who is not aware of the situation."
The East of England Co-operative Society has more than 200 trading outlets in more than 70 towns and villages including Norwich, Ipswich and Colchester.
It had also contacted eBay and was "flagging up" each listing of the cherries.