Folkestone memorial arch to WWI troops gathers support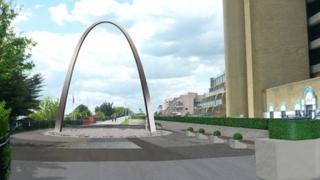 For many of the millions of servicemen making their way to the trenches of World War I it was the last part of Britain they stepped foot on.
The steep downhill road in Folkestone, now named Road of Remembrance, led to the boats waiting to take the troops across to France.
As part of plans to mark the centenary of the outbreak of the war an arch will be built at the top of the hill.
It is part of a project by charity Step Short, which is named after the order given to the marching men to shorten their stride as they went downhill.
Folkestone was used to transport an estimated 10 million troops from across the world, over the English Channel to Europe.
Local councils have already approved the plans for the £500,000 arch.
And discussions were held in 10 Downing Street on Wednesday to keep the government informed of the progress of the project.
'International monument'
Step Short are hoping it will form part of the government's official commemorations and an announcement on this is expected in August.
Paul Emden, from Step Short, said: "'Step short' was the order given to the soldiers because the hill was so steep that they had to shorten their step, otherwise you would have found 100 people crashing into the people at the bottom.
"We're extremely hopeful of government support."
A temporary arch was built across the road in the 1930s.
The new arch would also encompass a statue of an infantry soldier under its northern side.
Philip Gearing, who is the project's architect, said: "This is an international monument. People who came here were from Asia, Africa, North America and Australia - so I tried to think of a shape that was relevant and applicable to all those people."