Peterborough Cathedral and John Clare Cottage lottery grants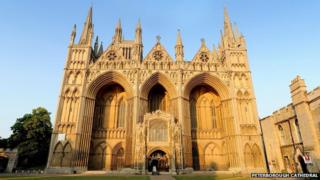 Preservation work to Peterborough Cathedral and the former Northamptonshire home of poet John Clare has been secured thanks to a £1m grant from the Heritage Lottery Fund.
The cathedral has been awarded £500,000 towards the ongoing preservation of the ancient precinct and cloister.
The same amount has been given to the John Clare Trust, based in Helpston, to help preserve Clare's cottage.
Both organisations are required to match-fund the grant.
Earnings gained from the investment can then be used to carry out conservation work in the future.
The Very Reverend Charles Taylor, Dean of Peterborough, said: "The preservation of our heritage is so important and a scheme such as this which requires match-funding helps us develop and explore innovative approaches to securing private donations."
He added: "This funding award takes us over £3.5m raised so far for our Peterborough 900 appeal. Given the economic climate this is great news."
In addition to the preservation of John Clare's cottage, which tells the story of the poets life and works, the John Clare Trust will use the funding to provide ongoing educational activities for young people.
Clare, who lived from 1793 to 1864, began to publish poetry in 1820. He is widely acknowledged as one of the most important historical British poets.