Stanford Hall could become military rehabilitation centre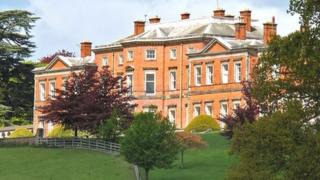 Planning permission is expected to be granted to turn a Nottinghamshire stately home into a centre for injured members of the armed forces.
The Ministry of Defence has said Stanford Hall could replace its existing rehabilitation centre, DMRC Headley Court, in Surrey.
Stanford Hall was bought by the Duke of Westminster in 2011.
The site would also become a national "centre of excellence" to treat and rehabilitate members of the public.
The developers are seeking full planning permission for the defence facility and outline planning permission for the public facility.
They also need to get listed building consent, as the building is Grade II listed.
A report prepared for a council planning meeting, which is due to take place at 19:00 BST, states: "The provision of proposed defence and national rehabilitation centres are projects of national importance and benefits, with clear government support."
Treating wider public
The report adds: "On balance it is considered that the degree of harm to the heritage assets, measured against the public and other benefits, weighs in favour of granting planning permission and listed building consent for the development as proposed."
While Headley Court is a Defence Medical Rehabilitation Centre (DMRC), Stanford Hall would be a Defence and National Rehabilitation Centre (DNRC).
The main difference between the two is that the expertise used to treat the service personnel would be used to treat the wider public, for example people who have been involved in car accidents.
Stanford Hall was chosen because of its central location and accessibility to Queen Elizabeth Hospital in Birmingham, where armed forces personnel are treated.
The Ministry of Defence said that a ministerial decision about replacing DMRC Headley Court would not be made until the end of the year.