East of England Ambulance Service board 'should resign' after report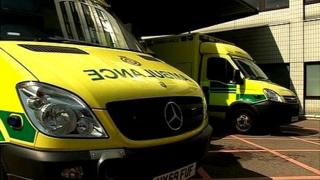 Board members at East of England Ambulance Service Trust have been urged to resign after a report was highly critical of the service.
The report said the board's leadership "just isn't strong enough" to take the service forward.
Labour and Unison said resignations should follow and Care Minister Norman Lamb said the trust was at a watershed.
The trust said it would review the findings of the independent report and submit a formal response.
Denise Burke, of North Norfolk Labour Party, said: "We believe there needs to be close scrutiny of senior management and certainly of the board.
"Yes, we have seen some resignations from the board but more need to follow."
'A clean slate'
Gary Applin, Unison branch secretary, said: "I want to go forward. However, we are seeing remnants of the old regime still in place - senior members of the board who are still present.
"I have my reservations about whether they are able to change in the manner that we need to to go forward. Our staff know who they feel are culpable.
"They want a clean slate. Let's get on with it."
Dr Anthony Marsh, chief executive of the West Midlands Ambulance Service, was commissioned to write the report because of concerns over the trust's performance.
In March the trust was ordered to improve by the Care Quality Commission (CQC) after failing to meet its care and welfare target.
Dr Marsh's report, published on Tuesday, said there was a lack of accountability throughout the organisation and made 24 specific recommendations, including cutting back on management to pay for more emergency crews.
'Rolling sleeves up'
Dr Marsh told BBC Look East: "There was a very clear disconnect between the very senior levels within the management and the front line.
"The board has set out a transformation plan, which they published in April, and that does set out a whole series of improvements. We are already seeing some of those improvements being achieved, but they now have the opportunity to go to the next level."
Asked if he would like to take over as chief executive, Dr Marsh said it was a "matter for others to determine", but stressed he had 27 years' experience of working in ambulance services, including in the East of England.
The trust's interim chief executive, Andrew Morgan, told BBC Radio Norfolk: "I'm already rolling up my sleeves and turning things around. I'm already addicted to this organisation and I would love to stay longer.
"I'm very clear what we need to do."
Mr Lamb, Liberal Democrat MP for North Norfolk, said: "Looking forward, this has to be a watershed.
"We have a great opportunity now with an experienced chair coming in to oversee the board.
"We have got to now have clear, effective leadership. It's not rocket science, this.
"It's about deploying your resources to meet the varying needs of a diverse region."