Sex abuse choirmaster Michael Brewer appeal rejected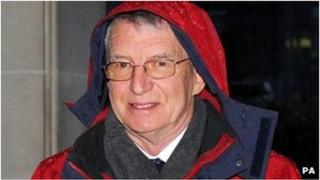 A choirmaster jailed for six years for indecently assaulting a pupil has failed in a bid to have his prison sentence reduced.
Michael Brewer, former music director at Chetham's School of Music in Manchester, was convicted in February.
He was jailed for abusing Frances Andrade, from the age of 14, between 1978 and 82. She killed herself soon after giving evidence at his trial.
Brewer, 68, from Birmingham, lost his challenge at the Court of Appeal.
'Predatory sex offender'
Lord Chief Justice Lord Judge, sitting with two other judges, described it as a "woeful case".
"There is nothing wrong with this sentence. It was an appropriate sentence for the offences committed by this applicant," he said.
He added: "It seems to us that he escaped justice for a very long time indeed and that justice has now caught up with him."
Brewer, from Selly Oak, who claimed his sentence was "excessive", was not present for the ruling in London.
He was convicted by a jury of five counts of indecently assaulting Mrs Andrade and sentenced at Manchester Crown Court in March.
His ex-wife Hilary Brewer, 68, was jailed for 21 months, also for indecently assaulting the teenage pupil.
Lord Judge said Brewer had been a man of "great distinction", who was "publicly honoured for his services to music" when he was awarded an OBE in 1994.
He was a man with "a rare talent for inspiring pupils with, and about, the joys of music and helping them to the fullest flowering of their musical abilities," he said.
But he added he had committed a "gross breach of trust" and "clearly exploited" the vulnerability of his victim which had a "devastating" effect on her.
Lord Judge said: "In his sentencing remarks, the judge of course expressed his deepest sympathy for the fact that the victim had died so tragically after giving evidence and before the conclusion of the trial - so do we.
"But he had to address the offences with which the offender had been convicted.
"He took account of the outstanding musical career that the applicant had enjoyed and the contribution that he had made to the success of large numbers of pupils at the school but, as the judge pointed out, he was also a predatory sex offender."