Thousands of fines left unpaid by foreign drivers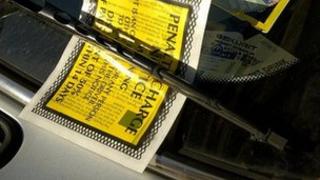 Parking and speeding fines totalling more than £500,000 have not been paid by foreign motorists visiting south-west England, official figures say.
The amount is for the last five years in Cornwall, Devon and Dorset.
Several councils asked about penalties said fines against foreign motorists were written off within a month.
The Department for Transport said it was "vital" foreign drivers were punished the same way as people living in Britain.
More than £510,000 remains unpaid to 10 councils in the region, with about £385,500 being owed in unpaid parking tickets alone.
The rest comes from 2,079 foreign drivers caught by speed cameras, in which the maximum penalty is £60.
The details were released in Freedom of Information requests from Devon and Cornwall Police and the local authorities.
'Reckless foreign drivers'
In Exeter, the city council said it had issued 72 parking tickets to just one foreign vehicle in 2012/13.
A spokeswoman from the authority said: "We will be working with Devon County Council (DCC) to ensure that cars belonging to repeat offenders are either clamped or reported to the foreign embassy."
DCC said it had not been made aware of the vehicle, but would now work with the council and the Driver and Vehicle Licensing Agency (DVLA) to "determine the most effective course of action".
If a penalty charge notice is issued and not paid, local authorities can chase payment by contacting the registered owner using information from the government's DVLA, which holds details of vehicles registered in England, Wales and Scotland.
Fines against foreign motorists are written off by most of the authorities involved if they are not paid within 28 or 29 days and if registration details are not available from the DVLA.
Insp Richard Pryce, of Devon and Cornwall Police, said police used intelligence to try and find repeat offenders.
"For one-off offenders there are options for us to ensure we try to trace them through contacting the country of origin but clearly we need to be proportionate in what we do."
Insp Pryce said trying to trace someone abroad could be "very prolonged" and run into "many thousands of pounds".
He said that the number of speeding fines was about 1% of those issued in the region.
Edmund King, of motoring organisation the AA, said: "It's not good enough that Devon, Cornwall and Dorset have reckless foreign drivers beyond the law.
"If they feel they won't get caught, they're putting other drivers at risk."
The Department for Transport said: "Foreign drivers are subject to the same rules of the road as everyone else and it is vital that they are punished for driving dangerously.
"The police are already able to take on-the-spot fines from foreign drivers who break the rules and can immobilise their vehicles."
Most of the councils said they did not employ external companies to track down drivers abroad to claim unpaid fines, but North Devon District Council said it was considering this.
Teignbridge District Council said it did employ two bailiff companies to chase all outstanding debts for road traffic accidents, but it did not continue to try to find them after the first attempt.
Alex Folkes, deputy leader of the Liberal Democrat group at Cornwall Council said on his blog that the government could change the law and start impounding vehicles with unpaid charges when they attempt to leave the country.
"But this would place a big administrative burden on both the council and Border Agency which might again prove uneconomic," he said.
"Cornwall Council doesn't view the writing-off of any debt lightly.
"This may be a comparatively small amount of money, but it is still money owed which could be used to fund vital services.
"However, unless the law changes, there is no economic way that we can hope to recover it."