Castle Donington homes: Opposition says infrastructure 'would not cope'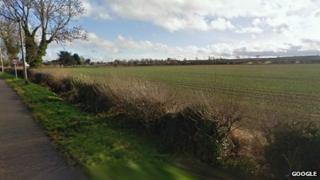 A challenge to plans for 900 homes in a village has been launched amid claims the infrastructure would not cope.
North West Leicestershire District Council approved the development at Castle Donington after initially throwing the plans out.
District and parish councillor Tony Saffell said the area needed improved services including schools and doctors.
The council said if it had not approved the application it would be "hamstrung" in future decisions.
The plans were approved at a meeting last week despite planners previously refusing permission for the development on the border of Leicestershire, Derbyshire and Nottinghamshire.
Mr Saffell, who has resigned from the ruling Conservative party over the issue, said the committee was forced in to the decision by officers.
"I don't think anybody who has been involved in this is actually against them building houses," he said.
"The problem is that we can't get the developers and the county and district councils to realise that these many extra houses puts at least 50% on the population and we are getting very little facilities in order to accommodate those extra houses."
He is now looking into challenging the council's decision.
The council said it had to take into account a recent appeal decision at Ashby-de-la-Zouch, which said the council urgently had to make up a shortfall in housing development.
Councillor Trevor Pendleton, portfolio holder for regeneration and planning at the district council, said it was a difficult decision for the committee to make.
"To refuse consent at this stage would have rendered the district council hamstrung in its ability to defend against current and future planning applications and appeals that are on land that it would seek to protect," he said.