A14 upgrade: Local funds 'agreed' before spending review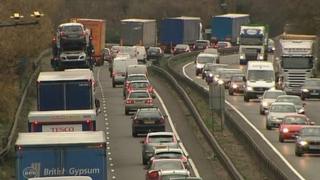 Councils in the east have "agreed in principle" to find £50m in the next two weeks to help secure £1.5bn from the government for an upgrade to the A14, a councillor has claimed.
If £100m is not secured locally before the government spending review, it is feared the scheme could be dropped.
Businesses in Cambridgeshire have already committed £50m over 25 years.
Huntingdonshire councillor Jason Ablewhite said "agreements" needed to be turned into reality before 26 June.
In July the government announced a £1.5bn upgrade scheme for the A14, which links the country's largest container port in Felixstowe, Suffolk, with the M1 and M6 motorways via Cambridgeshire and Northamptonshire.
'Positive meeting'
Improvements include widening the road and new safety measures, as well as a proposal to toll part of the road.
Work could begin in 2018 "subject to a funding package and decisions at the next spending review", the government said.
The agreed funding package relies on interested parties, including councils and businesses across the eastern region, finding about £100m.
In March the Greater Cambridge/Greater Peterborough Local Enterprise Partnership (GCGPLEP) committed £50m over 25 years to the scheme.
Councils have been meeting with representatives of the Treasury, Department for Transport and Highways Agency to discuss ways of meet the funding requirements.
Mr Ablewhite, who heads Conservative-led Huntingdonshire District Council (HDC), described the latest meeting, on Monday, as "very positive".
"HDC has budgeted £5m, and that is our firm commitment on the table," he said.
"We have two-and-a-half weeks before the spending review, so there will be an awful lot of talking going on in the background elsewhere to firm up the rest of the required funding."