West's public health authorities invest £44m in tobacco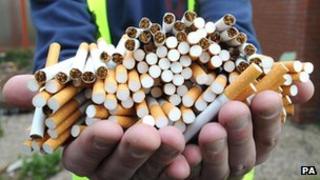 More than £44m has been invested in tobacco firms by local councils in the West, despite their new responsibility for promoting public health.
Figures obtained by the BBC show that a pension fund administered by Somerset County Council has approved the biggest spend of £21.6m.
Gloucestershire County Council has invested £12.2m, authorities in Avon some £9.7m and Wiltshire Council £1.1m.
Each authority said its strategy was based on specialist investment advice.
The main two companies in which shares have been bought are Bristol-based Imperial Tobacco and British American Tobacco in London.
'Impossible contradiction'
Health Minister Anna Soubry said in Parliament on Tuesday that it was a matter for local authorities, but she recognised it was a widespread issue.
She said it was even more important that MPs campaign alongside local councillors now that they have a great responsibility for public health.
In April, as part of the NHS reform, local government was passed responsibility for public health - a term encompassing everything that prevents disease and prolongs life, such as promoting physical activity and better diets, as well as stop smoking services.
The former director of public health for the South West, Dr Gabriel Scally, has lambasted the investments as an "impossible contradiction".
He said: "How can you have a responsibility to improve the health of the population and yet be one of the owners of a tobacco company?
"The only way to get out of it is for local authorities to tell their investment managers, 'sorry we can't have shares in the tobacco industry'."
"Yes they do pay well. But they pay well by killing people and I don't think that's ethically or morally correct."
Somerset County Council said the investment strategy of the Somerset pension fund was based on specialist advice to maximise returns and reduce the need for a publicly funded subsidy.
'Socially responsible'
It was a similar response from Gloucestershire County County which added it had a responsibility to ensure it invested in companies which provided the best value for taxpayers and pensioners' money.
For context, a council spokesman said the total pension fund value in February was £1.256bn.
Avon Pension Fund, which works with Bath & North East Somerset Council, Bristol City Council, South Gloucestershire Council and North Somerset Council, invests around 0.8% of its stock selection in tobacco.
The four councils delegate responsibility for administering the money to the fund committee, of which councillor Paul Fox is chairman.
"As a socially responsible investor, the fund does take into consideration a range of issues when reviewing investment strategy and appointing investment managers," said Mr Fox.
"The committee regularly considers its position with regard to responsible investing as it continues to assess its investments."
Wiltshire Council has so far declined to comment.