Aidan Thomas resigns as Norfolk and Suffolk mental health boss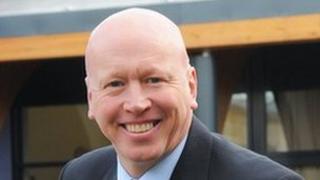 The chief executive of mental health services in Norfolk and Suffolk has resigned.
Aidan Thomas said he had been considering his future since a merger of mental health trusts in the counties last year and said he was "better suited to a smaller organisation".
He said he had been "proud" of his work but admitted he had "struggled" with the commute from Essex to Norwich.
Deputy CEO Andrew Hopkins will cover the role from 1 July.
'Genuinely sorry'
Mr Thomas was chief executive of Norfolk and Waveney Mental Health NHS Foundation Trust before it merged with the Suffolk Mental Health Trust last year.
"Now would be the right time to step aside and let someone else lead the Trust through the changes over the coming years," he said.
"Those who have worked with me know that I wouldn't ever want to give less than 100% in any role.
"I do believe my style of management is better suited to a smaller organisation."
Chairman Gary Page said he was "genuinely sorry" to see Mr Thomas leave but respected "his reasons for doing so".
"He has transformed the trust and succeeded in building on our foundations of excellent care to bring growth and competitiveness as well as strengthening our external relationships," Mr Page said.
The search for Mr Thomas's successor would begin in the autumn, Mr Page said.