Building society opens account to aid homeless charity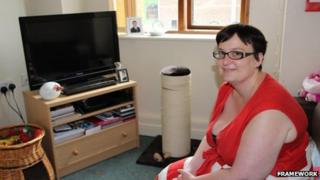 A building society is offering savers the chance to help homeless people via an account thought to be unique.
The Nottingham has given Framework an £800,000 loan with special savers accounts set up to reduce the cost.
The money will be used to build 14 one-bed flats in Lincolnshire and Derbyshire for people finding their feet after homelessness.
Amanda Orford lives in similar accommodation in Beeston, Nottinghamshire, and said it was vital.
She became homeless when her marriage broke down and she began to abuse alcohol and lost her job as a hospital manager in Scotland.
"It was embarrassing. I always assumed people who were homeless just didn't try very hard," she said.
"They didn't try and have successful lives and do jobs and do things for themselves. I lost an awful lot of my confidence because of it."
She is now in a move-on flat, rebuilding her confidence, re-learning how to care for herself and is going to university - all while being supported by the Framework charity.
The loan is the first step in a five-year scheme to raise £10m and build 120 move-on units, starting in Swadlincote, in Derbyshire, and Lincoln.
For every saver who takes out a special Framework account, the interest on the loan will be reduced.
The Nottingham waived its usual fees and is not making a profit from the project.
Andrew Redfern, chief executive of Framework, said: "We know that the quality of outcomes for vulnerable people is linked closely to the quality of their accommodation."
David Marlow, chief executive of The Nottingham, believes this is the first account of its kind.
"What started out as a very traditional relationship between a business and a local charity has developed into something ground-breaking. Hopefully others will follow this lead in the future," he added.