London, Stansted and Cambridge group formed to encourage growth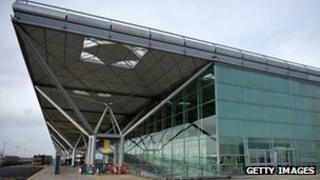 Business leaders and councils have joined forces to improve transport links between London and East Anglia.
The London-Stansted-Cambridge Consortium (LSCC) was officially launched at a conference earlier.
Deputy director, Stephen King, said increasing international flights via Stansted, "but within agreed planning", could encourage economic growth.
There was "a great deal of synergy between London and Cambridge" that could be capitalised on, he said.
'Half-capacity'
Lobbying for improved transport links between the capital and Cambridge could make international business travel simpler, and drive growth for both the region and the UK as a whole, he said.
"This is an alliance of local authorities, come together of their own volition, so our policy position is not to force major growth at Stansted - it's actually growth within its agreed planning application.
"The key thing about Stansted is that it is operating at half its capacity, so it could take a lot more flights on right now," he said.
"That has been agreed by the local planning authority, and it has the infrastructure in place to do that."
Mr King added: "There is a great deal of synergy between the two cities. You've got Google investing £1bn at King's Cross, and you've got Microsoft in Cambridge.
"You've also got the Wellcome Foundation at the Cambridge Biomedical Campus, and their headquarters at Euston Road.
"The geography just works along that corridor."
The London, Stansted, Cambridge corridor area covers Tech City, King's Cross, the Olympic Park, the Lee Valley, the M11/A10 and West Anglia rail routes to Harlow and Stansted, and on to Cambridge.