Large heath butterfly to be reintroduced at Heysham Moss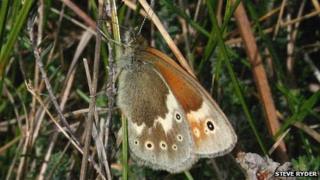 A project to reintroduce a rare butterfly to a Lancashire nature reserve has been announced.
The large heath butterfly, extinct in much of north west England, is to be brought back to Heysham Moss, where it has not been recorded for a century.
Lancashire Wildlife Trust and Chester Zoo will repopulate the reserve using insects from nearby Winmarleigh Moss.
The trust's Reuben Neville said he hoped it would allow the butterfly to "fly and flourish" again in Lancashire.
He said Winmarleigh Moss was one of only two sites in the North West where the butterfly "hangs on", with the other being the Forest of Bowland.
The project will see a small number of adult butterflies taken from Winmarleigh to Chester Zoo.
Butterflies will be bred at the zoo before being released at Heysham in the summers of 2014 and 2015.
'Iconic butterfly'
Mr Neville said habitat management work that had been done since the trust took control of the site in 2004 had led to it being ready to support the new population.
"The successful return of this iconic butterfly would be a fantastic culmination of all the work undertaken in recent years and something to be valued and cherished by future generations," he said.
However, he added the insects would still be at risk from other factors at the reserve, especially if there was another fire like the one which devastated an area of the peat bog in April.
"Many invertebrates, such as large heath butterflies, are susceptible to wildfires, and the recent incident at Heysham Moss does highlight the threat that future incidents could have on some of our rarest habitats and species," he said.
He added as a result, the trust was working with Lancashire Constabulary and Lancashire Fire and Rescue Service to "raise awareness of the reserve and the dangers of fires in particular".