Michael Gove slams child abuse image teacher return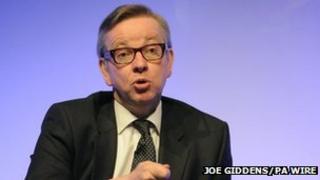 The education secretary has criticised a decision to allow a teacher who downloaded indecent images of children to return to the profession.
A professional conduct panel said Geoffrey Bettley, 36, from West Yorkshire, did not pose a risk to children.
Mr Gove said the case demonstrated the need for new guidelines.
The Department for Education said new guidelines would stop anyone convicted of such an offence from teaching.
'Protection paramount'
Mr Gove said: "We absolutely need to change the way in which the panel that reviews these cases operates.
"We have to have new guidance in order to make sure that anyone who views indecent images is having their case reviewed by this panel and then clearly isn't allowed to teach."
A spokesman for the Department for Education said: "When these cases came to light we immediately announced that the guidance used by the independent panel would be revised so that anyone cautioned or prosecuted for offences relating to images of child abuse is prohibited from teaching.
"It is paramount that children are protected when they're at school."
The spokesman confirmed the new guidelines would not apply to Bettley, however.
He said: "The law does not allow us to apply new guidance retrospectively, but as part of their safe-guarding obligations, schools must carry out Disclosure and Barring Service (DBS) checks on all new teachers. Any cautions relating to sexual offences would be shown up in a DBS disclosure."
Bettley had been employed as an RE teacher at St Mary's Catholic School in Menston, West Yorkshire, until he was dismissed in December 2011.
He was cautioned for the offence of possessing an indecent photograph or pseudo-photograph of a child and placed on the sex offenders register for two years after his computer was seized by police in 2010.
Police had found almost 200 images on his computer.
In its judgement, the National College of Teaching and Leadership panel said the images viewed by Bettley were "not at the most serious end" of the scale used to categorise the severity of images of child sex abuse.
The decision attracted criticism from the National Association for People Abused in Childhood, the National Society for the Prevention of Cruelty to Children and MPs.