Brothers rowing English Channel are rescued off Alderney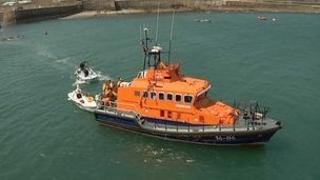 A former soldier and his brother who were rowing the English Channel for charity have been rescued off Alderney.
Nick Townsend and Jason Rice left Weymouth on Thursday and had hoped to reach Jersey at about lunchtime.
They sent a mayday call at 06:00 BST and Alderney Coastguard said they had struggled in the rough seas.
A spokesman for the Alderney Coastguard said the rowers were found 20-miles north-west of the island in busy shipping lanes.
The brothers were raising money for the charity Help for Heroes after Mr Townsend was injured serving in Afghanistan.
The 30-year-old lost two pints of blood and sustained 11 shrapnel wounds in a rocket-propelled grenade (RPG) explosion in 2007, severing an artery in his leg.
Total darkness
Soon after leaving Weymouth a cable snapped off the mast on the boat which held the light and radio aerial.
The brothers managed to repair it but were without light or radio contact for a long time in 6ft waves and total darkness.
A stronger than expected north-easterly wind saw them blown significantly off course, west of Alderney.
Mr Rice, 44, said: "We had no alternative but to send up a distress flare for assistance, [which] was seen by a passing aircraft and we were soon rescued by the RNLI in the early hours of this morning.
"We would like to thank the RNLI for coming to our aid and all of those that have supported our cause."
The two men were found safe and well with no injuries and had rowed 90 miles in 28 hours.
They said they had not ruled out another attempt to row the English Channel.