Mercian Regiment gets new colours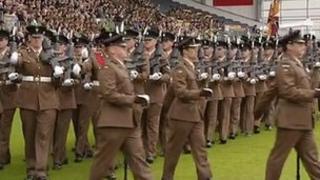 The Mercian Regiment has been presented with new colours at a ceremony in Worcester.
The Prince of Wales, the regiment's colonel-in-chief, was at the event attended by hundreds of people at Sixways Stadium.
The regiment was created in 2007 through the merger of three single battalion regiments and the creation of a reserve one.
Each battalion had since served under its old colours.
The 22nd (Cheshire) Regiment, the Staffordshire Regiment and the Worcestershire and Sherwood Foresters combined as the Mercian Regiment as part of the Army's infantry restructuring plans.
Maj Chris Wood described the ceremony as a "once in a military lifetime occasion".
"I don't expect to see this again in my time in the Army," Maj Wood added.
David Lovell, from the Staffordshire Regimental Association, called it a "sad day for Staffords".
Mr Lovell said: "We've got to embrace the Mercian Regiment because that is our histories and traditions going on to the new colours along with the other county regiments.
"It's a sad day for the old soldiers."