Child pornography convicts face lifetime teaching ban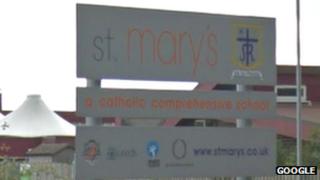 People convicted of viewing images of child abuse could be barred from ever teaching in England again, the government has said.
A review of guidelines has started after Geoffrey Bettley, 36, who admitted accessing child abuse images, was cleared to teach again.
A professional conduct panel ruled Bettley, from West Yorkshire, was not "a risk to children or young people".
Now, the Department for Education is to review its guidelines to panels.
Bettley accepted a police caution and was dismissed by the school.
In a statement the Department for Education said: "We want to ensure that in future anyone cautioned or prosecuted for offences related to child pornography is prohibited from teaching.
"We are taking steps to revise the guidance the independent panel uses to make a decision on whether a teacher should be barred. "
Escalating conduct
In its judgement, the National College for Teaching and Leadership panel said the six images viewed by Bettley in 2009, were "not at the most serious end" of the scale used to categorise the severity of images of child sex abuse.
He was employed as an RE teacher at St Mary's Catholic School in Menston, from September 2001 to December 2011.
The National Society for the Prevention of Cruelty to Children (NSPCC) said it was shocked a panel found Bettley was not a risk.
Jon Brown of the NSPCC said the risk of escalating conduct could not be ruled out.
Before the Department for Education issued its view, Mr Brown had said: "We are frankly shocked at the decision not to bar this person from teaching children in the future.
"It's a significant number of images that he had amassed, and certainly in our experience at the NSPCC there is always the risk of escalation, of moving on from viewing relatively low-level images to much more serious images.
"Of course, there's also the risk with some people who view these images of actually going on to commit contact offences."
Sex offenders register
When his computer was seized by police in December 2010, 143 images were found to be at level one of the Copine scale, the least severe on a scale where 10 is described the most serious.
A further 46 images considered to be at level three were found but had not been opened, the panel said.
Bettley was cautioned for the offence of possessing an indecent photograph or pseudo-photograph of a child and placed on the sex offenders register for two years.
A report from Leeds Children and Young People's Social Care in September 2011 had also concluded that Bettley posed little risk, the panel added.