Ardingly show farmers say crop yields down after 'awful' weather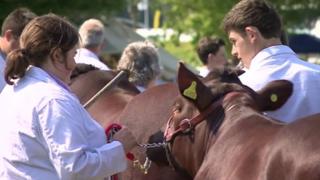 Farmers exhibiting at the South of England Show are hoping warmer temperatures will help improve crop yields after the wet and cold spring.
Temperatures on the first day of the biggest agricultural show in the South East, at Ardingly in West Sussex, reached 20C.
But farmers said they were still feeling the effects of last year's wet summer and the cold winter.
East Sussex farmer Gillian Van De Meer said crop yields would be down.
Failed to germinate
"Last year we had that awful wet summer and wet autumn so when the crops were sown last autumn a lot of them didn't go through the winter," she said.
"They had to be re-sown this spring, and then we got that extremely long cold spring so a lot of those have not germinated or have died.
"A lot of farmers have had to try and re-sow again.
"The weather today is fabulous and if it carries on like this we may well come through OK."
Cash flow
Tens of thousands of visitors are expected over the three-day Ardingly event, which showcases the work of farmers across the region, particularly Surrey and Sussex.
More than 760 livestock entries have been recorded, with a record 78 pigs entered for prizes.
Exhibitor Howard Heaton, from Westmoreland Sheepskins in Leeds, said the weather had made the last year very difficult.
"We specialise in going to shows and we probably had 15 or 20 cancelled last year," he said.
"Because we plan ahead with our buying it put our cash flow under tremendous pressure.
"Fortunately we came through it in the end but there's a lot of people who aren't here.
"The only people who did well last year were the insolvency practitioners."