Science Museum Group says cuts put museums at risk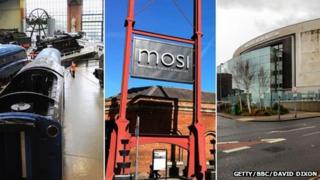 One of three museums in the north of England will close if further cuts to budgets are made, their owner has said.
The Science Museum Group (SMG) said it was in a "weak" financial position.
As well as the Science Museum in London, SMG runs the Museum of Science and Industry in Manchester, the National Railway Museum in York and the National Media Museum in Bradford.
Director Ian Blatchford said as well as the closure, "big cuts" may also be made to the museum in London.
He said the prospect of a further 10% cut in funding in the next round of government spending proposals meant "almost certainly" one museum would shut.
"We have done lots of boring and sensible things, awful things like cutting staff, procurement, raising more money.
"But cuts of that level bite really deep into our flesh so it means not only big cuts in the Science Museum in London but one of our three great northern museums almost certainly would have to close."
'Blow to economy'
Mr Blatchford said the option of introducing an admission fee as an alternative was not his decision because it was government policy not to charge.
He said: "Charging often seems like a miracle solution but there's a very obvious point to make which is, it's not my decision.
"Even if I had the freedom to look at that, it's just not on the table as anything that's going to ride to the rescue."
Mr Blatchford said discussions were taking place as to which museum would close if that was decided.
"You are comparing three great cities, York, Bradford and Manchester, very different cities with different economies and different universities.
"We just haven't decided yet."
David Green, leader of Bradford Council, said: "Any threat to the science museum in Bradford would be a great blow not just to the tourist economy but to the efforts to increase interest in science and technology, to the links with schools, to the links with businesses and to encouraging people into those areas of work that the future of the economy relies on."
An online petition calling for the Manchester site to be saved has attracted nearly 1,500 signatures.
Physicist and broadcaster Professor Brian Cox has expressed concern about the city's museum.
He tweeted: "If threat to our museums is real (I cannot believe it is) it demonstrates reckless disregard for our future for short term financial 'gain'."
SMG's financial review for 2011-12 said about 62% of its income was provided by Grant in Aid from the Department for Culture, Media and Sport, and 21% from commercial activities.
A spokesman for the Department for Culture, Media and Sport said it would be inappropriate to speculate on the outcome of the Spending Review which will be announced later this month.
He said: "This is an operational matter for the Science Museum Group who has to address a large projected operating deficit from 2014 onwards and is assessing a range of options to address this situation".