Hillsborough inquests to be heard by jury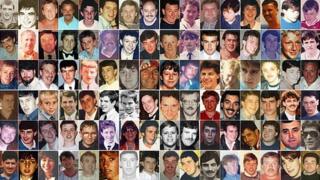 Fresh inquests into the deaths of the 96 Hillsborough victims will be held before a jury, a coroner has confirmed.
Lord Justice Goldring announced the decision at a pre-inquest hearing in London.
The judge said he hoped to start work on 31 March. He has previously said the inquest should be in the North West.
Ninety-five people died at Sheffield's Hillsborough stadium on April 15 1989, with the 96th dying four years later after a ruling to end his life.
Thousands of fans were crushed on the ground's Leppings Lane terrace before the Liverpool v Nottingham Forest FA Cup semi-final.
New inquests were ordered in December when the High Court quashed the original verdicts of accidental death.
A venue for the new inquests in to Britain's worst sporting disaster is yet to be decided.
'Anticipated'
Lord Justice Goldring said he agreed with the lead counsel to the inquests, Christina Lambert QC, in her argument that the proceedings must have a wide scope.
Ms Lambert said the inquests must look at such matters as the design of the stadium, preparation for the semi-final, planning by police and other organisations, movement and distribution of fans, overcrowding at the turnstiles and the police response.
She said they must also include the issue of the survivability of the victims if other emergency care had been available.
Michael Mansfield QC, representing 73 of the families, said the "problems at Hillsborough were anticipated in other grounds, at other times" and hoped there would be recourse to reports on other disasters at football matches.
"The Cup final in 1923 had this problem [and] there were other football grounds where there were tragedies," he said.
"The last, in 1985, was the Bradford fire, which led to the Popplewell Report [which] talked of training in relation to crowd management.
"We would hope, therefore, that one has recourse to these earlier reports about other grounds, and safety and management at grounds in other contexts."
Recruitment delay
The judge expressed concerns during the hearing about the speed of the investigation into any criminal aspect of the disaster.
Samantha Leek QC, representing the Stoddart team carrying out the probe, told the judge they were planning to complete interviews by December.
There was laughter from some of the Hillsborough victims' relatives when she said an advert had been placed for 70 or 80 additional officers on Friday.
When this was queried by the judge Ms Leek explained there had been "delays in the Home Office signing off on the recruitment of further officers".
The judge said there would be a further pre-hearing on a date to be decided in October.
"Obviously, we are going to have to timetable the hearing itself with care, particularly as we will have a jury, so time is not unlimited," he said.