Kevan Sheehan: Dorset man names new pliosaur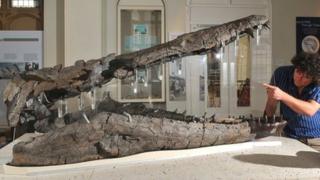 A 2.4m-long "sea monster" skull recovered in Dorset has been identified as a new species.
The 155-million-year-old fossil was discovered by collector Kevan Sheehan in 2003 in cliffs near Weymouth.
Named in his honour as Pliosaurus kevani, in the online journal PLoS One, Mr Shehan said it was a "great day for Kevs around the world".
Two pliosaurs unearthed in Wiltshire have also been named as new species.
'Undervalued Kevans'
Pliosaurs, which lived during the Jurassic and Cretaceous Periods, have been described as the most fearsome predator the Earth has seen.
The Dorset specimen, held at the Dorset County Museum, is thought to belong to one of the biggest pliosaurs ever found.
"I was so lucky - I was sitting on the beach, and saw three pieces just lying within a few inches of each other," said Mr Sheehan, a retired cafe owner from Osmington, near Weymouth.
"I thought it was fossilised wood and when I found the skull - it was about 70 to 80 kgs - I buried it so that I could get a friend to come and help me dig it up and carry it down to his tender.
"Then over several years, I'd go back every year and find a new piece. I'm a beach magpie."
The fossil was purchased for £20,000 by the museum, with half of the money going to the collector and half to the landowner.
Now, according to research carried out by a team from Oxford, Bristol and Cambridge universities and museums in Leicester and Nottingham, it has been found to be "sufficiently different" from all other pliosaurs to warrant a scientific name of its own.
Although the convention is to name a new species using the surname of the main collector, Mr Sheehan has insisted that his first name be used as a "tribute to the underestimated and undervalued Kevans of this world".
The Westbury beast
Two other new species of pliosaurus were also named in the paper, both found in clay pits near Westbury in Wiltshire and held at Bristol City Museum and Art Gallery.
Pliosaurus westburyensis was discovered in the 1980s whilst pliosaurus carpenteri has been named in honour of Simon Carpenter, who unearthed his 35ft (11m) long, 140 million-year-old "beast" in 1994.
"I was looking at a bank of clay with a lot of substantial bones sticking out of it and realised it was a pretty large animal," he said.
"But it's taken 20 years to clean and restore it from its raw state and Roger Vaughan from Bristol Museum has spent many years preparing the beast.
"Finding it is the only bit I did but I've spent most of my life collecting so it's nice to be recognised."
According to Mark Evans, curator of natural sciences at Leicester Museum the paper has "effectively doubled the number of British pliosaurus species".