'Track-a-trolley' app launched to report abandoned trolleys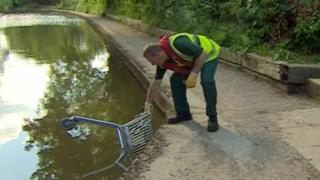 Of the two million or so shopping trolleys currently in circulation in the UK, manufacturers estimate about 400,000 do not make it back to the store they came from.
Whether left by the roadside, in the wrong part of a shopping centre or protruding from a canal, an abandoned trolley is a familiar sight that can perturb not only local residents but also staff of the shop from which it came.
Local authorities have the responsibility of rounding them up and then charging the owners, but now the public are being urged to help "track a trolley" by using an app on their smartphones.
The Trolleywise app enables people to report an abandoned supermarket trolley cluttering up a riverbank, street or road by taking a photo and then a GPS signal will give its exact location.
A Trolleywise collection team, funded by the retailers, will pick up on where it is, come out to retrieve it and then return it to the relevant supermarket chain.
Drivers from the firm, which is part of Wanzl, one of the largest manufacturers in the UK, have been out hunting for errant trolleys for the past year but the firm said it hoped the "point and click" aspect of the app would yield more accurate results.
Dean Rolland, managing director Wanzl, which has its headquarters in Warwick, said: "There are about two million in the UK and we are collecting some 400,000 a year.
"Our teams - about 47 currently - have been driving around finding them but this new technology means much more accuracy.
"We supply a whole range of trolleys - something that is unique to the UK really, in terms of size and shape. It costs local authorities to retrieve them and then there are fines for the retailers, but now we can find them via the new app and get them back."
Rob Mutch, from Asda in Leamington Spa, Warwickshire, said he estimated hundreds of trolleys were lost from the store each month.
While many are returned, he said it was still a big problem.
"It's very frustrating... it is simply local residents," he said.
"They are coming in and doing their shopping and rather than carry their shopping home or get a taxi from the store, they are simply taking trolleys home and abandoning [them] in locals roads.
In 2009, British Waterways launched a hotline for people to report any wayward trolleys spotted in canals or rivers.
Figures the organisation quoted at the time gave an estimate of about 3,000 being dumped annually, and it said fishing them out of its network cost £150,000 each year.
But after a weak response the hotline was eventually wound up.
The Canal and River Trust, which took over responsibility for canals from British Waterways in 2012, told BBC News while it was an "emotive subject" it was not necessarily a huge problem.
'Trolley hospital'
"We broadly welcome anything like this scheme that helps tackle things like this but it's not as big a problem as people perceive," a spokesman said.
"We do get some calls, perhaps from boaters who have struck one, and our staff do remove them.
"Some areas are worse than others of course and do have their problems.
"Where we can, we notify the relevant supermarket otherwise we generally have to scrap them."
However, Trolleywise said once it had recovered a trolley, it could be taken to its trolley hospital for repairs before being given a new lease of life and put back into use.
Mr Rolland said: "The finish on a trolley, as you can imagine, being next to food, is very important.
"So when rusty ones are found in canals, we take them to our trolley hospital in Tibshelf where they are stripped down and repaired and have a whole new life.
"Ultimately, we're manufacturing them, reviving them and getting them back. We go though the whole cycle."