Wheelchair patients charged £40 for transport to Torbay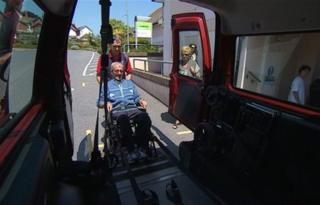 Elderly care home patients are having to pay up to £40 for private taxis to hospital appointments in Devon because of a change in policy.
South Devon Healthcare NHS Foundation Trust trust said eligibility for transport services had been reviewed.
Nigel Morris, manager of the Palm Court nursing home in Dawlish, said the situation was "awful" and "abhorrent".
He said residents who used wheelchairs were now required to use private transport to get to Torbay hospital.
The trust, which runs patient transport services in Torbay and South Devon, said its resources were "finite" and eligibility criteria for transport services now followed "national guidance".
'Should be ashamed'
Mr Morris told the BBC he first noticed the changes a couple of months ago when Torbay hospital told him there was a new telephone number to ring to arrange patient transport.
He said when he called the number he was put through to a taxi firm.
Mr Morris said: "I've been in this business for 40 years and this is the most broken system for the elderly that I've ever known.
"It's awful, it's abhorrent, they should be ashamed."
Mr Morris said the return journey to Torbay Hospital by taxi cost £40.
"The majority of people here are very poorly... they haven't got much money... they are now in a position where they are having to pay significant sums so they can get transport," he added.
Patients with 'greatest need'
A spokesperson for South Devon Healthcare NHS Foundation Trust said: "NHS resources are finite and in order to ensure that those patients with the greatest need have access to our transport services, we have reviewed our eligibility criteria in line with national guidance.
"The Patient Transport Service only provides transport for patients who require the specialist skills of a trained team in order to make their appointment.
"This does not necessarily include a person in a wheelchair, as other alternative means of transport, such as a wheelchair-friendly taxi, are available."
The trust said some patients may be entitled to reclaim a "significant proportion" of their travel costs through routes including the Disability Living Allowance.
Mr Morris said many of his residents "did not know whether it was night or day" and were not in a position to submit claims.
Teignbridge-based charity Volunteering in Health has one wheelchair accessible vehicle, driven by volunteers.
'Get this right'
Care home residents can book it for hospital visits at a cost of £19 return but as demand is high it is often not available.
Mr Morris said one resident had missed three hospital appointments because of the difficulty in arranging transport.
He said: "I think there will be people who just won't go to appointments."
Tina Graham, from Volunteering in Health, said about 10% of the people the organisation took to hospital needed a wheelchair-accessible vehicle.
Conservative MP for Newton Abbot, Anne-Marie Morris, said: "I have been approached by constituents who are understandably concerned about this issue.
"I have made representations to both local healthcare officials and ministers and I will continue to work with them to ensure we get this right."