Science Museum Group denies closure plans over deficit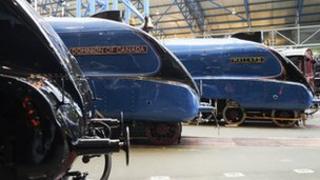 A museums group said it has no plans to close attractions despite facing a "significant annual deficit".
The group that runs the Science Museum in London has museums in York, Bradford, Manchester and Shildon, which some fear may start charging.
The Science Museum Group (SMG), which has lost some government funding, said cost-saving recommendations would be made in the autumn.
A spokesman would not be drawn on whether charges would be introduced.
The SMG also runs the Museum of Science and Industry in Manchester (MOSI), the National Railway Museum in York, the National Media Museum in Bradford and the Locomotion National Railway Museum in Shildon.
'Range of options'
In a statement, the group said it has to "address a large projected operating deficit from 2014 onwards" and is "assessing a range of options", but did not give details.
"The group's finances are expected to come under even greater pressure following the Spending Review," it said.
A spokesman said: "There have not been any decisions made to close museums, but we are looking at ways to save costs."
On 26 June, the Chancellor will set out the government's next round of public spending proposals.
SMG's financial review for 2011-12 showed total income of £62.2m and total expenditure of £62.1, but this excluded figures for Manchester's Museum of Science and Industry, which joined the group last year.
The report said the group had had to cut staffing and control costs after reduced government funding.
But it added: "If public funding continues to fall, and the economic uncertainty persists, we may have to review the range of our operations.
"Even in the most difficult circumstances, however, we will endeavour to ensure that as many people as possible can enjoy our remarkable collections, which are of global significance."
The report said about 62% of SMG's income was provided by Grant in Aid from the Department for Culture, Media and Sport, and 21% from commercial activities.
'Surprised and shocked'
Graham Stringer, Labour MP for Manchester Blackley and Broughton, who was leader of Manchester City Council when MOSI opened in 1986, said he was "surprised and shocked" to hear of the financial situation.
He said: "In straitened times one has to look at everything but I would be very reluctant to see MOSI reintroduce charging.
"There is enough money in the Department of Culture, Media and Sport to pay for these great museums in the north."
Kersten England, chief executive of the City of York Council, said a "quite explicit commitment" had been made to keep SMG museums free of charge.
She added the National Railway Museum was "at the heart" of York's tourism offering.
London's Science Museum received nearly 3m visitors between 2011 and 2012. The group's regional museums received about a third of that or less.
A spokesman for the Department for Culture Media and Sport said it was an "operational issue" for SMG.
Entrance fees to government-sponsored museums were scrapped from 1 December 2001.