Southwold Pier-to-Pub Swim: Dozens rescued from sea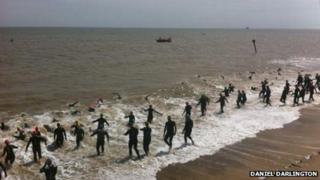 Dozens of people taking part in a charity sea swim off Suffolk had to be rescued after getting into difficulty.
More than 130 swimmers in Southwold had problems, the Maritime and Coastguard Agency (MCA) confirmed.
Four RNLI lifeboats and a rescue helicopter were involved from about 13:00 BST, after initial reports that up to 90 people were missing.
Two people were taken to James Paget Hospital in Gorleston with suspected hypothermia, the MCA spokeswoman added.
The organisers of the race have not yet commented on the rescue operation.
Coastguards were concerned for a woman from Kettering, Northamptonshire, who remained unaccounted for, but she contacted them soon after 17:00 BST.
'Daunting and tough'
The MCA spokeswoman said it was unclear how the swimmers got into trouble as weather conditions were fine, but the water was "very cold".
Some swimmers were rescued by lifeboat while a number of people swam to the shore themselves, she said.
Darren Skidmore, of Hertford, who was competing in the Pier to Pub Swim, said: "It was quite daunting and tough.
"I probably swam a mile in the wrong direction because of the current, but fair play to the RNLI as they were fantastic. I was picked up from the water after about an hour-and-a-half."
Eyewitnesses spoke of exhausted swimmers coming out of the sea and being wrapped in towels, while a lifeboat hut close to the pier was turned into a makeshift emergency centre.
Daniel Darlington, from Hampton, Middlesex, said: "Dozen of swimmers, at least 30 or more, appeared to be struggling with the currents around the pier.
"Some were picked up by rescue boats, it looked as if others realising the difficulties swam straight to shore."
Organised by Active Outdoor Sport, the swim started north of the pier and was due to finish a mile down the coast.
They are yet to comment.