Air ambulance night flights are set to begin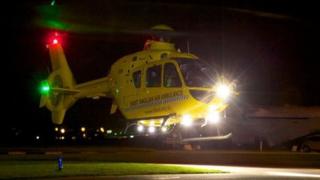 The East Anglian Air Ambulance (EAAA) has expanded its service to include flying to emergencies during the night.
The charity said it would now be able to help about 300 more patients a year by flying at night, as well as during the daylight hours.
In order to fly at night, a helicopter had to be fitted with special instruments and equipment for use with night vision goggles.
EAAA also had to get clearance from the Civil Aviation Authority.
The charity operates two dedicated air ambulances all year round, covering Bedfordshire, Cambridgeshire, Peterborough, Norfolk and Suffolk.
'Highly-skilled'
By January 2014, its fundraising target will be £6m a year to maintain the helicopters and the extended service.
It also works in partnership with the East of England Ambulance Service NHS Trust (EEAST) and Essex and Hertfordshire Air Ambulance.
Dr Scott Turner, deputy medical director at EEAST said the air ambulances complemented staff on the road.
"A commonly-used phrase in the ambulance service is 'getting the right resource to the right patient in the right time-frame every time," he said.
"Our air ambulances provide a highly-skilled clinical team to our most critically ill and injured patients."
Later this year, the air ambulance charity will take delivery of a further helicopter capable of flying at night. It will be slightly larger than the one currently in operation, enabling two patients to be carried at one time.
The current night-time helicopter, which is based at Cambridge Airport, will be relocated to Norwich Airport.