Ellie Jones death: Warrington girl 'had drugs in system'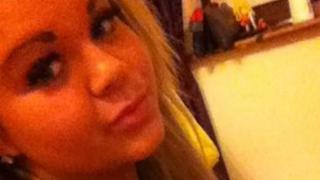 A 16-year-old who died after suffering breathing difficulties had an ecstasy-like drug in her system, police said.
Ellie Jones died in hospital after being taken ill at a friend's house in the Longford area of Warrington early on Saturday.
Initial toxicology results found she had taken paramethoxyamphetamine, which is also known as PMA or "pink ecstasy".
Six people who were arrested in connection with the death have all since been bailed.
Police said if it was confirmed the drug caused her death, it would bring the number of deaths associated with PMA to four, but "at this stage there is no evidence to suggest a link".
Police said PMA was an amphetamine which was "not absorbed as quickly as other drugs and as a result users have been known to take excessive amounts", which could result in users potentially taking lethal doses by mistake.
Supt Martin Cleworth said: "We would urge people to obtain urgent medical assistance on behalf of anyone suspected to have taken PMA who suffers difficulty breathing, muscle spasms, nausea or starts to vomit."