Worcester child killer David McGreavy anonymity lifted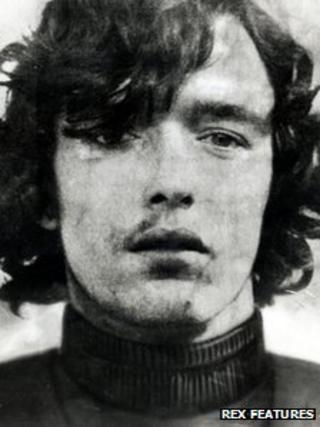 A man who killed three children he was babysitting and impaled them on garden railings has had his anonymity lifted.
David McGreavy, 62, was jailed for life in 1973 for the murders of four-year-old Paul Ralph and his sisters Dawn, two, and nine-month-old Samantha.
He killed them at their home in Gillam Street, Worcester, in April 1973.
In 2009 a judge imposed a ban on naming him during a hearing to protect him from other prisoners. The High Court has now overturned the ban.
In January, McGreavy made a request to be moved to an open prison and his lawyers had argued that would put his name back in the spotlight and his life at risk.
Justice Secretary Chris Grayling and media organisations argued the application was legally flawed and wrongly prevented the public from knowing the full facts of the case.
McGreavy was lodging with the family at the house in Gillam Street when he carried out the killings.
'Monster of Worcester'
Paul had been strangled, Dawn was found with her throat cut, and Samantha died from a compound fracture to the skull.
The killings earned McGreavy the nickname the "Monster of Worcester".
The anonymity ruling was made in 2009 during a hearing when McGreavy unsuccessfully challenged a ruling that he must remain in Category C prison conditions.
On Wednesday, Guy Vassall-Adams, representing the justice secretary and the media organisations objecting to the ban on naming McGreavy, told the court: "The full facts are exceptionally horrific by even the standard of murders.
"The order restricted the media to saying they were 'three sadistic murders' but that doesn't even give you the half of it."
Lord Justice Pitchford, sitting in London with Mr Justice Simon, ruled the anonymity order must be discharged.
The High Court heard David McGreavy had been in prison for 40 years, during which time he had been seriously assaulted in 1975 and 1996 by fellow prisoners.
His counsel Quincy Whitaker told the court naming him would put him in more danger from other prison inmates.
Ms Whitaker told the court McGreavy had previously spent two years in an open prison until "hostile media coverage" led to him being returned to closed conditions "for his own safety".
The court heard McGreavy was first transferred to category D open conditions in 1994 but the transfer to Leyhill Prison in south Gloucestershire broke down after other inmates learned of his offence.
Ms Whitaker said the triple killings were "notorious" but no concerns had been subsequently raised about his behaviour.
Name change possible
There were "more than reasonable grounds" for a fair parole hearing that could mean him being returned to open conditions, which was a pre-requisite for release from custody, she said.
The judge held out the possibility that in future McGreavy could be allowed a change of name to protect him.
He said McGreavy's ninth parole review was under way and a hearing could be held later this year.
Since 2007 McGreavy has made a number of failed bids to win parole, the court heard.
The Worcester MP at that time, Mike Foster, called for McGreavy to never be allowed back to the city and described the murders as an "absolutely vile crime".
McGreavy is currently living in closed conditions in a vulnerable prisoners' unit.