Leicester school halal burger: 'No action needed'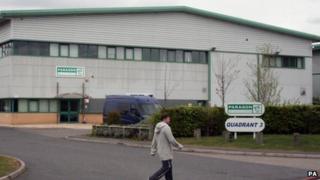 No action is needed against a food manufacturer alleged to have supplied a halal burger containing pork to a school, the Food Standards Agency (FSA) has said.
Leicester City Council said there was pork DNA in a sample lamb burger made by Paragon Quality Foods in Doncaster.
But extensive sampling of the company's products has shown no traces of meat other than those labelled.
A DNA expert said the original sample could have been cross-contaminated.
'Fast action'
The city council said the sample burger was part of stock held in its schools.
Pat Heslop-Harrison, a professor of molecular cytogenetics, said: "A sampling procedure is difficult to get right, and a DNA test might detect DNA transferred to an uncontrolled sample that came from a knife, from juices dripped from torn packaging, on hands (or gloves) or even from dust in the air."
The city council withdrew the burgers from its schools after the original test result.
Prof Heslop-Harrison said: "Despite being only one sample, with food involved I think the council had to take the action with precautionary withdrawal.
"Some of the potential causes might also point to a problem with food hygiene - also needing fast action. If meat is cross-contaminated, bacteria will be transferred too."
Legal action considered
Paragon's managing director Metin Pekin, who is from a Muslim family, said: "Our good reputation has been unfairly damaged by the publications since 8 May 2013 and we trust that it will now be fully restored."
Paragon is considering taking legal action against Leicester City Council.
Mr Mekin added: "The finding was not based on a formal controlled sample in which samples are retained for further independent analysis."
Eastern Shires Purchasing Organisation, which tested the original burger on behalf of Leicester City Council, declined to comment.
The FSA was notified of the original test results by Leicester City Council.
The burgers were made in Doncaster, so the FSA asked Doncaster Metropolitan Council to investigate if any contamination had occurred.
The investigation included tests on products which came directly from the factory.
Peter Dale, the Doncaster council's director of regeneration and environment, said: "We have carried out an extensive programme of formal sampling and so far no traces of meat other than those labelled have been detected."
Awaiting 'detailed' results
An FSA spokesperson said: "We have received the report from Doncaster and are satisfied that there are appropriate controls in place and no further action needs to be taken in this instance."
Leicester City Council has commissioned its own tests on further burgers - removed from schools rather than the factory.
A spokesperson said: "We won't be releasing any results, or any further details of our testing, while our statutory investigation is being carried out as this may prejudice any future legal proceedings.
"We still await detailed results of the second test on the batch of burgers in question."