How police caught 'sophisticated' Liverpool and Plymouth drugs ring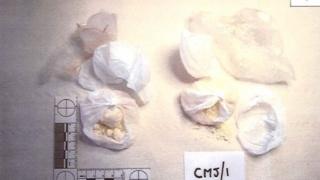 A "sophisticated" drugs ring, which had a turnover of about £1m a year, worked like a call centre, police have said.
Four people have been convicted and nine have admitted being part of the operation in which addicts in Plymouth had a hotline to their supplier, a man hundreds of miles away in Liverpool.
Their calls to a mobile phone number were answered by a man with a thick Liverpudlian accent known as Matey.
He would send addicts and street dealers in Plymouth to pre-arranged meeting places to exchange crack cocaine and heroin for money.
In the middle of the operation were the couriers who would ferry heroin and crack cocaine orders down the M5 from Liverpool to the Devon city - sometimes four times a week - and then take the money back up north.
'Violence' against women
Det Insp Neil Blackhurst, from Devon and Cornwall Police, said: "If we look at the number of calls that were made on the customer line, you are talking about 20,000 calls a month.
"That's a large turnover."
Operation Rio was launched in 2011 by the Devon and Cornwall force's Serious Organised Crime Investigation Team.
They were concerned about an increasing level of violence, sometimes sexual, against prostitutes and other vulnerable women in the city from Liverpool gang members.
Its first breakthrough came in April 2011 when Alison Bates, 43, from Liverpool was stopped in her car as she veered from lane to lane while travelling to Plymouth on the M5.
She was caught with two golf-ball-sized 50g bags of crack cocaine. Police later found Bates had made 46 drugs trips from Liverpool over the previous 11 months.
Her arrest led officers to other gang members, including Plymouth taxi driver John Cavanagh, 50.
He was tracked to an industrial estate on the outskirts of Liverpool where he was seen with another member Stephen Kearns.
Officers in Plymouth also arrested three others, Carl Barlow, Joseph Pines and Patrick Mooney, who had been dealing drugs on the city's streets.
But the gang simply installed other dealers in their place - and was still sending thousands of pounds worth of drugs to Plymouth.
The full scale of the operation emerged after Lee Ellis was arrested as he was driving south on the M5 in February 2012.
Inside a specially installed compartment in the car were 3kg of cocaine, 1,400 wraps of crack cocaine and 255 wraps of heroin worth a total of £175,000, all destined for Devon.
'I detest heroin'
The car was owned by Plymouth antiques dealer Wayne Harle-Stephens. He was arrested and police found cannabis worth £1,000 and a set of scales with heroin traces in his house.
Police established Kearns and Harle-Stephens were the organisers at the Liverpool and Plymouth ends of the illegal trade.
Smartly-dressed Harle-Stephens stood out in the dock among the casually dressed members of the gang.
When police raided his home, they had to search through 150 suits hanging in his wardrobe.
They found a set of scales with traces of heroin and nearly half a kilo of herbal cannabis.
He said the scales must have been contaminated with heroin before he bought them 10 years ago and he used cannabis to ease the pain of an industrial accident.
He said: "I detest heroin. Why would anyone take it? There's no reason for taking a drug that destroys you."
Three Liverpudlian drugs dealers, Carl Corson, Patrick White and John Ward, were also arrested in May last year with £7,000 in cash stashed in a hidden roof lining of their car.
Plymouth police commander and acting Ch Supt Chris Singer said: "We were the target of a sophisticated and high level drugs operation.
"It was clearly causing an enormous problem.
"We are talking about a significant drugs operation, certainly one of the largest we have seen in the city."