HS2 compensation row could lead to class action lawsuit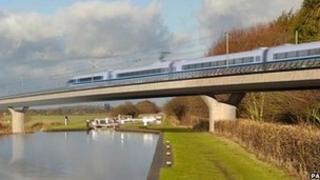 Campaigners opposed to the high-speed rail line through the Midlands are seeking legal advice on taking the government to court en masse.
The action comes as a consultation into the compensation scheme ends for the line that would link the Midlands with London and the North of England.
HS2 Ltd's Exceptional Hardship Scheme offers homeowners the chance to sell their property to HS2.
Opponents say a class action lawsuit could prove the scheme is flawed.
Rolf Pearce, from the campaign group Staffs Against HS2, said: "We are looking at the moment at getting some serious barristers together to look at the possibility of doing an American-style class action with a large number of people suing the government as a group.
"It's never been done before in the UK but we've got some very determined people up and down the line who want a full and fair deal for those affected inside and outside HS2's compensation zone."
The deadline later is for comments about the compensation scheme being extended in phase two, for properties affected by the line from Birmingham to Manchester and Leeds.
'Life's work'
Richard Burrage, who sold his house in Middleton, near Tamworth, in the first phase, said: "You're not allowed to refuse an offer for your house that is within 15% of the asking price.
"If you had a house that's £200,000 in a market that's steady would you accept a cheque for £170,000?"
Jim Prenold, who owns a farm on the proposed route in Marston, north of Stafford, said: "They can compensate for bricks and mortar but not for your life's work. How can I start again at 70?
"Everything's in limbo now for 20 years and the places are already devalued by about 40%... so how can they possibly say we're going to get full compensation?"
Liz Hurst, from HS2 Ltd, said so far 113 households had been successful out of 455 applications.
"We think with 113 successful applicants it shows the scheme is working," she added.
Jerry Blackett, chief executive of the Birmingham Chamber of Commerce Group, said he believed HS2 was essential for growth.
He said: "When you put in new infrastructure, business happens, more business open up, more jobs are created, a whole regeneration experience happens.
"We've done our own assessment of what it's worth [for the Midlands] and we think it's worth 22,000 jobs and £1.5bn when you add in the real benefits not just the time-saved benefits."