Ipswich docks pontoon death: Paul Napier jailed for manslaughter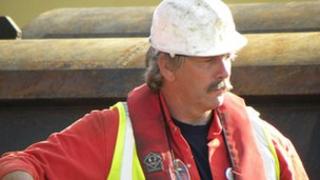 A haulier has been jailed for 12 months after an Ipswich dock worker was crushed to death unloading a pontoon.
Neville Wightman, 52, died when a lorry tipped over as its crane was lifting a load in December 2011.
The vehicle's owner, Paul Napier, 48, of Clacton in Essex, was found guilty at Ipswich Crown Court last month of gross negligence manslaughter.
He was also fined £50,000 for breaching health and safety law by not extending the lorry's stabilisers.
Napier's defence counsel, Nigel Lithman, said the failure to use the stabilisers had been "a momentary lapse of concentration".
'Gentle giant'
Another docks worker, Stephen Burden, 42, from Lowestoft, sustained pelvic injuries in the incident, on Cliff Quay on 16 December. He has been able to return to work part time.
Addressing the court before sentencing, Napier said: "I would like to say how sorry I am to Neville's family for the pain and grief I have caused them... and to Steve's family.
"I will never forget the accident and will have to live with it every day."
Napier, who said Mr Wightman was a friend, broke down in tears as he read his statement.
Sentencing Napier, Judge John Devaux said he had to consider the consequences of the health and safety breach and the fact that the haulier had been in "sole charge" of the operation.
"You are described as a gentle giant who was devastated by the events of that day," he said.
"Twelve months in jail is the shortest sentence that can be applied."
Mr Wightman's family issued a statement at the end of last month's trial expressing their grief, while the Health & Safety Executive said the death "could have easily been avoided" if basic rules had been followed.