Peanut allergy trial could improve food labelling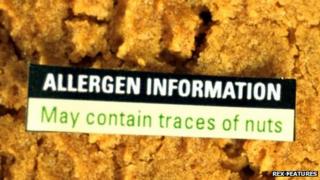 Food labelling for allergy sufferers could be made clearer if a new study into peanuts is successful.
Addenbrooke's Hospital in Cambridge is leading tests to determine how much peanut a sufferer can handle before a reaction is triggered.
It is hoped the three-year Trace study, commissioned by the Food Standards Agency, will make "may contain traces of nuts" food warnings clearer.
It will also look at whether stress and exercise affect those with allergies.
Between 200,000 and 400,000 people in the UK are estimated to be allergic to peanuts and about one in 50 children is thought to have the condition.
'Undergo challenges'
The new study aims to find out the levels at which allergic reactions kick in, and how external factors such as exercise can alter tolerance.
Many manufacturers currently label foods with "may contain traces of nuts" warnings, which the Food Standards Agency (FSA) said were "unhelpful" as there was no indication of the level of accidental peanut contamination.
Dr Andrew Clark, an allergy consultant at Addenbrooke's, is working with colleagues from Imperial College, Royal Brompton Hospital and the University of Manchester on the £1.2m FSA-funded project.
They hope to recruit 100 people with a peanut allergy to "undergo challenges" to determine how much peanut causes a reaction.
Dr Clark said the study could "bring reassurance to the thousands of people who are allergic to peanuts and offer a blueprint for improving food labelling for a whole variety of food".
Sue Hattersley, head of food allergens at the FSA, said improved labelling and advice would "help consumers better manage their allergy".