Police 'to get nurse help' dealing with mental health cases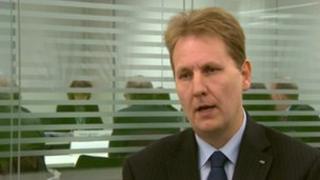 Nurses will help police officers sent to deal with incidents involving mentally ill offenders, under plans revealed by the Home Secretary.
Theresa May announced the plans to the Police Federation on Wednesday.
It followed a report by Staffordshire's police commissioner which said officers spent up to 25% of their time dealing with mental health-related incidents.
Matthew Ellis said he wanted specialist mental health response teams to "take pressure off" police.
He claimed officers in Staffordshire responded to 15,000 incidents last year involving people with mental health issues, at "an estimated £600,000 cost to the taxpayer".
"Many of these could have been dealt with by more appropriate agencies but the police tend to be the first port of call," he said.
"I think this needs to change and I want those with the responsibility and the best and most appropriate skills to make an effective contribution to the care of such individuals.
'Police not doctors'
"The police service can't continue to be the primary place of safety when better, more equipped professionals and facilities are available elsewhere."
Mr Ellis said his report had been sent to Theresa May and Health Secretary Jeremy Hunt to tackle the issue.
Ms May told the Police Federation Conference in Bournemouth that, under new plans, nurses would accompany police officers when it was likely to lead to a person being sectioned under the Mental Health Act.
This is already being done in Leicestershire, Cleveland and Scarborough and the government wanted to roll it out across the country, she said.
"Police officers are not doctors, and it is quite wrong that in more than a third of cases where mentally ill people are detained for their own safety, the place of safety is not a hospital but a police cell," she said.
"I believe all these proposals will make a real difference to police officers on the ground," she added.