Is European festival fever a threat to UK music events?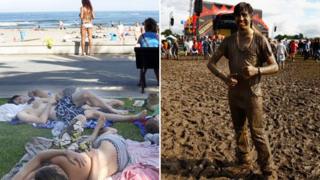 Sun, sounds and sangria or music, mud and mayhem?
Figures suggest UK music fans are increasingly opting for a festival in Europe instead of one on their home turf, lured by the promise of good weather and a cheaper ticket.
Benicassim on the sunny Spanish coast also has big name line-ups but across four days and for £166 - which is about £40 cheaper than Glastonbury and Reading & Leeds festivals (both just over £200) and without the risk of inclement weather.
Festival summer holiday
Sean Tipton from travel association ABTA said tour operators now offer bespoke European festival packages including flights, accommodation and tickets.
"The traditional British festival mud bath isn't everyone's idea of fun," he added.
Croatia in particular is fast becoming a popular festival destination.
Dan Fahey from festicket.com said the country now boasts about "16 brilliant new festivals", including the Unknown Festival, SunceBeat and Echo Festival.
And with super-early bird tickets for Soundwave in Croatia costing just £65, the entry and flights out there can be cheaper than attending a festival in the UK.
The 10,000-strong Hideout dance music festival on the Island of Pag in Croatia has sold out of its £109 tickets.
Its festival director Mark Newton said the event "has been mainly attended by Brits" since its inception in 2011.
"With the recession affecting the UK so much," he said, "young Brits don't have the funds to go to both a festival and a summer holiday so now they try to combine the two.
"We find a lot of our customers not only come for the three days of the festival but for seven to 10 days so they get to see more of the country and explore Croatia."
Way Out West in the mild climate of Gothenburg, Sweden, attracts 25,000 festival-goers and charges £180 for a weekend ticket.
The festival's head of communications Joel Borg said there had been "an increasing number of visitors from outside of Sweden, especially the UK and USA," and cited this year's line-up - which includes Neil Young and James Blake - as one of the lures.
'Competition healthy'
Mr Fahey said British customers booking foreign trips via his website had already increased by about 30% compared with last year.
In past years, UK festivals have suffered a blow because of what Isle Of Wight festival director John Giddings called a "saturated market".
In total 31 were cancelled or postponed in 2011, and major festivals such as Sonisphere and The Big Chill bowed out of 2012.
The Hop Farm music festival in Kent recently announced the cancellation of this year's event because of poor ticket sales.
So with this in mind, is the rise of the European music festival a palpable threat?
T In The Park festival director Geoff Ellis does not feel this is the case. He said his event is now in its 20th year and was this year named International Music Festival of the Year by concert trade publication Pollstar.
He added the UK has "the best festival culture in the world".
A Bestival spokesman said: "Competition is healthy and ensures we keep up our game in terms of innovation, creativity and value for money."
Reading Festival did not provide a comment but the three-day event that attracts 90,000 has been a fixture in the music calendar since 1971.
Glastonbury Festival in Somerset, which returns after a break last year, also did not comment but sold 135,000 tickets in two hours for this year's event.
Price hikes
Criticism has been aimed at Glastonbury, Reading and Bestival for their price hikes in the past 10 years. Glastonbury, for example, now costs £205 before booking and postage costs compared to £105 in 2003.
Bestival has seen a 124% price hike since it first launched in 2004, from £85 to £190.
The Bestival spokesman put the UK festival price rises down to the "huge increase in costs for talent, health and safety and production" but said the festival offered "a unique experience".
Mr Fahey also thinks a British festival ticket is still worth the money.
"Fans still get a broad choice of bands and the evolution of the boutique scene has meant much wider entertainment besides," he said.
'Hard-to-find intimacy'
And the smaller British boutique festival market has indeed seen a surge in popularity.
The 5,000-capacity Standon Calling in Hertfordshire and the 2,500-capacity Blissfields in Hampshire have both had their best year of pre-event sales to date.
Blissfields co-founder Paul Bliss said a smaller event allowed people to feel part of a "festival family".
Standon Calling founder Alex Trenchard said festival-goers were "increasingly looking for that hard-to-find intimacy".
Mr Trenchard added that festivals in the UK could easily offer European festivals a run for their money.
"The festivals that are doing well offer a unique experience at an affordable price, whether they're in the UK or abroad."