1882 FA Cup final programme sells for world record price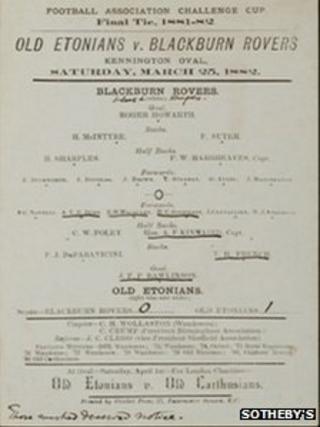 A programme from the 1882 FA Cup final has sold at auction for a new world record of £35,250.
The document, marking the tie between Blackburn Rovers and Old Etonians, was found in a box of papers bought as a job lot at a previous auction.
Old Etonians, an amateur side, beat the Blackburn professionals 1-0 at the Kennington Oval - the site now occupied by Surrey County Cricket Club.
The item, sold at Sotheby's in London, had an estimate of up to £25,000.
It was originally owned by lawyer Sir Thomas Berry Cusack-Smith. A scan of a diary entry from the then 25-year-old was offered with the programme.
Dated March 25 1882, he said he "saw the Etonians win the cup after a most exciting match in the presence of 5,000 persons".
Career highlight
The previous record auction price for a programme was one from the 1909 FA Cup final, which sold for £23,500 in November.
Auctioneer Graham Budd said it was one of the highlights of his career.
He said: "I am absolutely thrilled with the price, which we didn't expect to be so much.
"World record prices for football programmes usually creep up gradually, by a thousand pounds a time.
"But to achieve a price that is over £10,000 more than the previous record is amazing."
The programme was bought by the Old Etonians Football Club.